Syria
Condemn Homs attacks or be considered terrorists, Syria tells opposition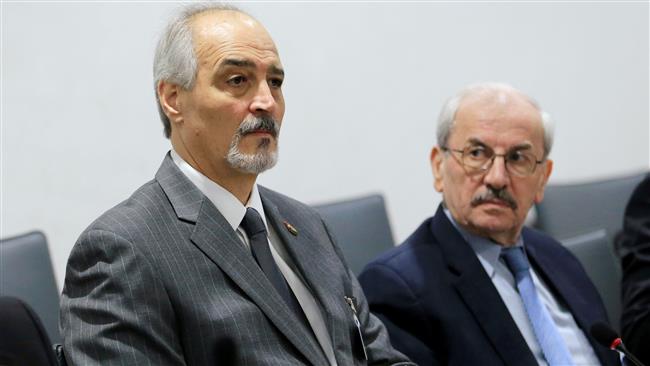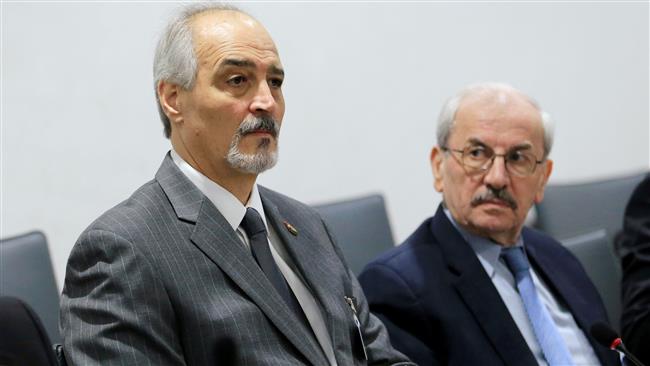 Syria's Ambassador to the UN Bashar al-Ja'afari has called on all parties present at the latest round of Geneva talks to condemn a deadly attack in Homs or be considered "accomplices of terrorism."
"Any party who refuses to condemn these attacks today we will consider that party to be an accomplice of terrorism," said Ja'afari following a meeting with UN mediator Staffan de Mistura in Geneva on Saturday.
He added that the attack "cast a shadow over Geneva" and that the it was not only a terrorists attack but a political one.
"What happened today will not go unnoticed and we will react to it … The blood of Syrians is precious and those who kill Syrians will also be punished," he added.
Earlier, simultaneous bombings targeted separate areas across the western city of Homs, which is largely under government control, claiming the lives of over 50 people.
The Jabhat Fateh al-Sham terrorist group, formerly known as al-Nusra Front, claimed responsibility for the attacks.
Before his meeting with de Mistura, Ja'afari said that Syria would "retaliate" against the sponsors of terrorists behind the attacks. "The terrorist attacks that targeted Homs today were a clear message from the sponsors of terrorism to Geneva," he said.
The latest round of UN-sponsored Geneva peace talks were convened following a ceasefire deal that was brokered in Kazakhstan.
"We believe in the Astana track. If it is needed that we go back to Astana as tourists than we shall. Its' a beautiful city with exceptional hospitality," added Ja'afari.A third round of peace talks sponsored by Iran, Russia and Turkey is also set to be held in Kazakhstan's capital Astana by the end of the month and is expected to focus mostly on bolstering a Syria-wide ceasefire that has been in place since December 30.
Opposition groups condemn attacks  
Meanwhile, the Syrian opposition delegation attending the talks has condemned the attacks, and accused the government of trying to block the Geneva talks.
"We condemn all terrorist acts done by all terrorist groups. And if the Homs operation specifically is one of those terrorist operations, by one of those terrorist groups, it is clear by what I say," said lead opposition negotiator Nasr al-Hariri. Another opposition envoy, Fateh Hassoun, accused the government in Damascus of carrying out the attacks.
For nearly six years, Syria has been fighting foreign-sponsored militancy. The UN envoy estimated in August last year that more than 400,000 people had been killed in the crisis until then. The world body stopped its official casualty count in the war-torn country, citing its inability to verify the figures it received from various sources.