Afghanistan
Asia-Pacific
Condemnations pour in after terrorist attack hits Afghan mosque massacre
Global condemnations continue to pour in after terrorist bombers attacked a Shia mosque in southern Afghanistan and killed dozens of worshipers attending Friday prayers.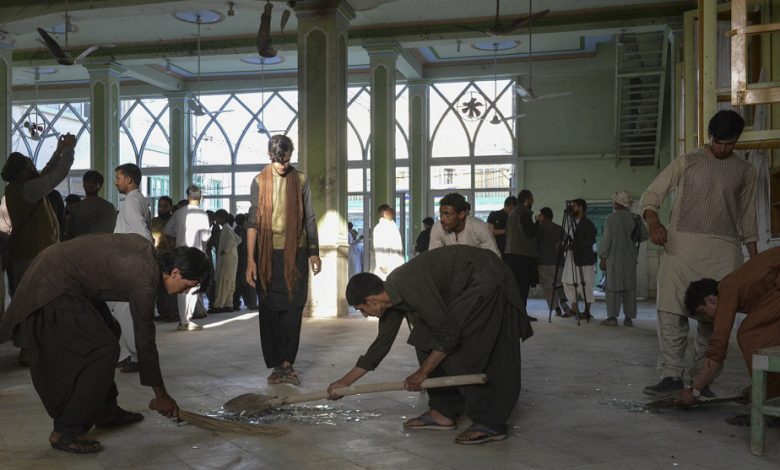 At least 47 people were killed and more than 80 others wounded after an explosion went off inside the Bibi Fatima mosque in the Afghan city of Kandahar.
It came one week after another Shia mosque in Afghanistan's northern city of Kunduz was targeted in a bombing during Friday prayers, leaving at least 150 people dead and over 200 others injured.
Both tragedies were claimed by a local affiliate of the Daesh Takfiri terrorist group, which has a long history of attacking Afghanistan's Shia minority.
Hezbollah urges 'wide, rapid movement' against Daesh crimes
In a statement released on Friday, Lebanon's Hezbollah resistance movement denounced the massacre of faithful worshipers at Kandahar mosque and urged the Muslim Ummah to take swift action against such crimes.
Daesh's continuation of "massive killing operations against the innocent and defenseless, and its choosing of the houses of God to turn the bodies of His worshippers into shreds, require a wide and rapid movement throughout the Islamic nation to confront this deviant and perverted ideology," the statement read.
"This also obliges the Afghan Muslim authorities to assume an extraordinary responsibility by arresting those murderers, inflicting the just punishment on them and taking proactive steps to prevent them from committing new crimes."
Hezbollah also called on the Afghan authorities to secure the mosques and the worshipers, and not to leave them "as an easy target to be preyed upon by the human wolves left behind by the United States to sow havoc and destruction in Afghanistan to avenge its failure after a long occupation."
It further expressed deep sorrow and regret for the pure blood shed by the terrorists, asking God Almighty to grant the righteous martyrs mercy, the wounded a speedy recovery, and the faithful Afghan people protection from every evil.
Al-Azhar: Sowing discord among Muslims equals betrayal of Islam
Egypt's Al-Azhar University expressed its "strong condemnation of the treacherous terrorist bombings" in Kandahar, saying that those who kill worshipers in God's homes have "sold their religion for a cheap price in the world, and that they will receive their fullest punishment in the hereafter."
It emphasized that "playing the strings of the differences of Islamic sects, and exploiting it to shed blood and intimidate the innocent – ​​is a betrayal of the teachings of Islam, which called for the adoption of wisdom, exhortation and arguing with goodness in calling to God."
"The pioneers of sedition in the fields of politics exploit the differences between schools of Islamic thought to sow discord and strife among Muslims, and they forget that these Islamic sects have lived side by side under Islam for more than 14 centuries," it added.
Mosque attack meant to fuel religious rift, political conflict: Moscow
Russian Foreign Ministry spokeswoman Maria Zakharova said the terrorist attack in Kandahar was aimed at fueling religious rift and political conflict in Afghanistan.
"This is not the first terrorist attack targeting Shia Muslims in Afghanistan after the Taliban movement came to power. Obviously, the organizers of such actions aim to incite religious discord and escalate the internal political conflict," she explained.
Zakharova said that Russia condemns the attack and hopes that its perpetrators will be identified and held accountable.
The Afghan authorities, she noted, have to take additional measures to ensure better security throughout the South Asian country.
Khazali calls for immediate action to stop the killings of Shia Afghans
Meanwhile, Qais Khazali, secretary general of Iraq's Asa'ib Ahl al-Haq resistance movement, took to Twitter to call on the international community, particularly Muslim countries, to take immediate action to stop the series of killings and destruction against Shias in Afghanistan.
'Hashd al-Sha'abi experience should be repeated in Afghanistan'
Kata'ib Sayyid al-Shuhada, a subdivision of Iraq's Popular Mobilization Units (PMU) or Hashd al-Sha'abi, called for a repetition of the experience of the anti-terror fighters in Afghanistan.
In a post on his Twitter account, Abu Ala al-Walai, the group's secretary general, said that "issuing statements will not be effective in stopping the bloodshed" against the Shias in Afghanistan.
"We have experience in this field and therefore we advise them to organize their affairs, raise the level of caution and warning, and especially try to reproduce the experience of Hashd al-Sha'abi," he added.