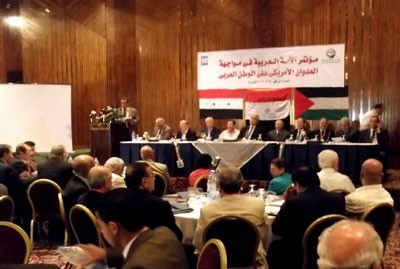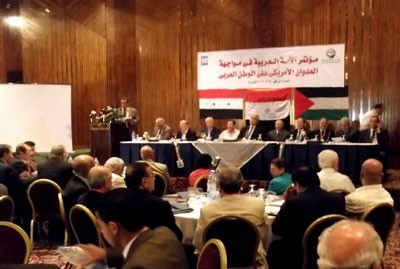 The Conference of the Arab Nation in the Face of US Aggression on the Arab World refuted the U.S. claims on defending the Syrian people through launching an aggression on Syria, stressing determination to defend Syria against the Zionist plots.
The participants in the conference, held Saturday in the Egyptian capital Cairo, stressed that the US allegations are false and come in the framework of implementing a plot to divide the Arab countries and put them in face of the challenges of sectarian and denominational seditions in service of the Israeli interests in the region.
20130907-171457.jpg"We will defend Syria to keep it unified, independent and resistant to the U.S. hegemony and Zionist schemes," said Leader of the Egyptian Popular Current, Hamdeen Sabbahi, in a speech at the conference.
He warned against turning Syria into "a base for organized terrorism" in case an aggression was launched against it, saying that the repercussions would affect all of the Arab countries which are pushing towards such a potential aggression.
Sabahi stressed Egypt's continuous commitment to standing by Syria in what it is going through.
"Every aggression on Syria is an aggression on Egypt and a threat to the entire Arab national security and not only Syria's security," he said.
Chairman of the Nationalist Council for Human Rights, Mohammad Faeq, underscored that the main goal behind the U.S. military intervention in Syria is to weaken the Syrian Arab Army in service of Israel.
He said that today's meeting in Cairo comes in the framework of the steps to support Syria and make the Arab nation's voice heard all over the world.
Former Lebanese Defense Minister, Leader of the Lebanese Union Party, Abdul-Rahim Murad, considered that the foreign aggression on Syria did not really start when the US started its threats of military intervention but rather when many Arab regimes started providing support to the fighters who have come from across the world to sabotage Syria.