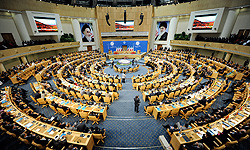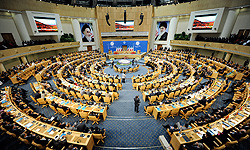 Tehran 2012 Non Aligned Movement (NAM) summit is underway to discuss the ways for "Lasting Peace through Joint Global Governance" as the theme of the meeting runs.
Taqrib News Agency (TNA) in an exclusive interview with Deputy Foreign Minister of the Democratic Republic of Congo asked about the views of this African participant.
Congolese official expressed his satisfaction over the well-organized NAM conference and attached high importance to the theme of the conference which deals with peace and global governance.
He also referred his expectations from NAM for the issue of civil war in his country and said,"Today the Republic of Congo is a victim of invasion by armed outsiders so it is necessary to discuss about peace and unity" and added, "All the NAM members should express their solidarity towards the countries that are subject to unjust attacks which we are against."
Asked about how NAM can stop global crisis the official said, "We should refer to the principle of the United Nations." referring to regional and sub-regional organizations to prevent the conflicts.
"We should not act violently against the violence." Said the African official and added, "The republic of Congo is after peace because Joseph Kabila , the president of the country, is a man of peace and we believe that the conflicts can be solved through dialogue."
NAM summit is underway in Tehran to convene the officials from 120 countries and 16 observing countries and international organizations.
Iranian capital of Tehran is hosting the sixteenth summit of the second greatest organization after the UN.