World News
Coronavirus update: Global cases pass 3.4mn, curve flattening in some countries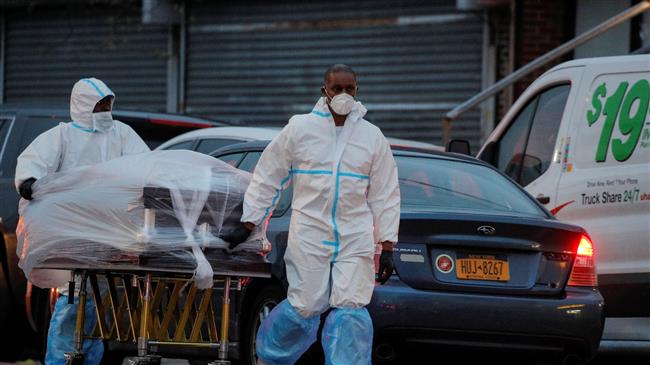 Worldwide, over 3,421,834 people have now been infected with the new coronavirus, which causes the respiratory disease COVID-19.
The pandemic has also killed more than 243,524 people across the globe, according to the latest data collected by Johns Hopkins University.
Many countries have already managed to bring the virus outbreak under control and eased lockdown restrictions that confined hundreds of millions of people to their homes; however, many others are still struggling to rein in the spread.
The US, which stands on the top of the world's worst-hit nations — with 1,132,315 cases and 66,364 deaths — has now given a Swiss drug-maker giant an emergency use authorization for an antibody test.
Swiss multinational healthcare company Roche said the US Food and Drug Administration (FDA) approved its Elecsys Anti-SARS-CoV-2 antibody test.
The test — with specificity greater than 99.8% — can determine if people have ever been infected with the virus and developed antibodies against it.
Roche said it has already started shipping the new test to top laboratories globally and will step up production to "high double-digit millions per month."
China reports 2 new cases, one imported
Meanwhile, China — the first ever nation to report the coronavirus late last year — reported only two new cases, and no additional deaths.
The national Health Commission reported a total number of 82,877 cases and 4,633 deaths on the mainland from the viral infection, which first emerged in the central city of Wuhan in December 2019.
As China has eased curbs on travel and relaxed rules on quarantine, the country's most populous cities started to see a spike in the number of outbound travelers on Saturday, the first day of a long holiday weekend in China.
The number of people traveling outside their home cities jumped nearly 50 percent at the start of the Labor Day weekend, according to Reuters.
The Ministry of Transportation expects 23.36 million travelers a day during the five-day holiday.
South Korea reports 13 new cases
South Korea reported 13 new cases of infection, but no additional deaths as of Sunday morning.
The Korea Centers for Disease Control and Prevention has so far reported 10,793 cases of COVID-19 and 250 deaths.
COVID-19 on the rise in India's crowded jails
Meanwhile, India is struggling with the rise of COVID-19 cases in its crowded prisons, raising concern among health experts who warned that the facilities are serving as breeding grounds for the virus.
That has prompted authorities to impose jail lockdowns and release thousands of pretrial detainees on parole.
"It is a terrifying situation," said Madhurima Dhanuka, head of the Prison Reforms Program for the Commonwealth Human Rights Initiative."If measures aren't taken soon, then things can become extremely difficult."
There are no official numbers on how many prisoners have been infected, though.
India has reported a total number of 39,90 cases and 1,323 deaths.
Outbreak in Europe's hotspots
In some European countries,the curve of infection has started to flatten.
Nevertheless, Italy has reported a spike in deaths and in the United Kingdom,the outbreak has showed no signs of slowing down.
Italy, the worst-affected nation after the US, reported some 474 new deaths – up from 269 on Friday – raising the total number of fatalities to 28,710.
Figures released Saturday showed 1,900 new cases, compared with 1,965 a day earlier.
The country currently has 209,328 positive cases of COVID-19, and 28,710 deaths.
The UK reported a total of 621 more deaths, 454 of which occurred in hospitals.
The Department of Health also began counting deaths in care homes on Wednesday.
The total death toll now tops 28,131, with some 182,260 positive cases across the UK.
Spain with the steepest virus curve, has reported almost 254,567 known cases and 25,100 deaths.
Officials have announced that wearing face masks will be mandatory in public transportation in the coming weeks.
France on Saturday announced an extension of a health state of emergency until July 24.
It has so far reported 168,396 known cases and 24,760 deaths.
Germany reported 793 new cases and 74 additional deaths on Saturday.
The country's total death toll reached 6,812, with the number of known cases reported at 164,967.
Germany has had a death toll, far lower than Italy, Spain and France.
Russia, meanwhile, said the number of positive COVID-19 cases has been growing rapidly.
On Saturday, health officials reported 9,623 new cases, with the majority recorded in the capital Moscow.
The mayor of Moscow has warned that hospitals could soon be overrun with patients.
Footage of cadavers sparks protest near Mexico hospital
Families of people infected with coronavirus in an impoverished satellite city of Mexico's capital, Mexico City, have held a protest, demanding news of their sick relatives and the return of bodies of the dead.
The demonstration was held after videos surfaced on social media showing cadavers at a hospital.
One video of the Las Americas general hospital in Ecatepec showed several bagged bodies on stretchers, some in a small room and others lined against a courtyard wall. The protesters blocked a highway outside the hospital.
Authorities said the hospital, which is run by the health ministry, would try to hasten the delivery of bodies to families.
Mexico reported 1,349 new cases of infection and 89 more deaths on Saturday.The new figure brings the total number of cases to 22,088, along with 2,061 deaths.