Europe
World News
Coronavirus updates: Asia hotspots report decline, Europe scales up response
China and South Korea, the hotspots of the new coronavirus in Asia, have reported continuing declines in new infections, while European countries move to contain their growing outbreaks more drastically.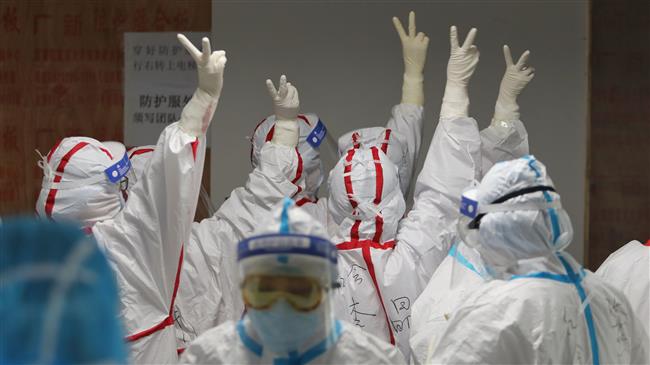 Health officials in China said on Tuesday that 21 new infections had been reported the day before. Only one of the cases had been transmitted locally, and the remaining 20 were all cases of individuals arriving from abroad.
China also recorded 13 new deaths.
Confirmed cases in mainland China now number 80,881. As of Monday, a total of 68,679 people have been cured and discharged from hospital, while 3,226 people had died of the disease.
South Korea, which also has a large number of coronavirus patients, reported 84 new cases of the disease.
The new figures, released by health authorities on Tuesday, brought the number of the total infections in the country to 8,320.
It was the third consecutive day that the daily infection tally in South Korea was below 100, compared with a peak of 909 on February 29.
Pakistan's Health Ministry announced the country's first fatality from the coronavirus infection on Wednesday, adding that 195 people had so far tested positive. It said that the male victim had been admitted to a hospital in critical condition.
Although the outbreak began in China, it has now spread to 161 countries and territories, 54 of which have reported fatalities.
Globally, nearly 183,000 have been infected as of Monday night, and at least 7,165 have so far perished, with 12,824 new cases of COVID-19 disease and 656 deaths reported in the previous day, according to Reuters tallies.
Bahrain, Pakistan, the Dominican Republic, and Cayman Islands reported their first fatalities on Monday.
Europe
Meanwhile, European countries are taking more drastic measures to contain their own outbreaks of the coronavirus.
On Monday, French President Emmanuel Macron ordered strict restrictions on the movement of the people to slow down the epidemic.
In an address to the nation on Monday, Macron said that from Tuesday midday (1100 GMT) people should stay home unless it was to buy groceries, travel to work, exercise, or seek medical care.
The French president also said the army would be deployed to help move the sick to hospitals.
Interior Minister Christophe Castaner said some 100,000 police will be deployed to enforce the lockdown.
In Italy, 349 people died of the highly contagious COVID-19 disease on Monday, taking the country's fatalities to 2,158. The country had recorded 368 deaths on Sunday — the largest single-day toll anywhere so far, including China.
Nearly 28,000 infections have been confirmed in Italy so far.
The European Union (EU), meanwhile, is considering the harsh move of suspending nearly all incoming travel to the 27-member bloc to battle the epidemic.
In Britain, the number of confirmed coronavirus cases surged to 1,543, from 1,372 on Sunday, with the nation's death toll rising to 55, according to Health Ministry figures released on Monday.
UK Prime Minister Boris Johnson also shut down social life across Britain on Monday and ordered those over 70 years of age with underlying health problems to self-isolate for 12 weeks. London also called on people to avoid pubs, clubs, restaurants, and theaters, stopping short of ordering them to close.
Africa
Thirty African countries — more than half the continent — are reportedly treating a combined 400 patients infected with the coronavirus.
Tanzania, Liberia, Benin, and Somalia have all announced their first infections.
Many other African countries, including some without reported cases, have ordered stronger control measures, such as bans on public gatherings, halting flights and closing schools and universities.
Nigeria's Health Ministry said the country — Africa's most populous — had reinforced contact tracing, stockpiled reagents used in test kits, and increased its testing capacity.
Ethiopia, Africa's second-largest country, also joined the growing number of states that ordered school closures for two weeks, and also suspended all large gatherings and canceled all sports events, according to Prime Minister Abiy Ahmed's office.
Americas
In the United States, state authorities urgently called on the Trump administration on Monday to coordinate a national response to the outbreak, insisting that patchwork measures enacted by state and local officials were insufficient to confront the coast-to-coast emergency that has so far killed at least 74 Americans.
A few hours later, US President Donald Trump urged Americans to avoid most social activities for 15 days and not congregate in groups larger than 10 people in the newest major effort to reduce the spread of the coronavirus.
Describing the highly infectious virus an "invisible enemy," Trump further asserted that the pandemic could be over by July, August, or later, warning of a potential recession.
Canada, meanwhile, closed its borders to all foreign nationals except US citizens and permanent residents on Monday, with Prime Minister Justin Trudeau urging people to minimize social contact to contain the spread of the virus.
The death toll in Canada increased to four on Monday from just one the previous day. The number of those infected also surged to 407 from 341 a day earlier, according to medical authorities.
Countries across Latin America also tightened restrictions on Monday to limit the spread of the new coronavirus, with Peru deploying its military on the streets, Costa Rica and Colombia shutting their borders, and other nations imposing curfews.
Responses to the virus, however, have varied greatly across South America, home to nearly 640 million people. While some nations , including Mexico and Brazil, have tried to minimize public disruptions, others such as El Salvador have taken more drastic measures to keep the virus at bay.
Chilean President Sebastian Pinera said his country, which has 155 confirmed coronavirus cases, would close its borders to foreigners starting Wednesday.
Costa Rican President Carlos Alvarado declared a state of emergency that included border closures and shutting down educational institutions for a month.
Guatemala also suspended all flights and banned foreigners from entering the country for two weeks as the Central American nation logged its first fatality on Sunday.
Moreover, El Salvador and Honduras were in a state of near lockdown, and Panama banned the entry of non-resident foreigners.
Argentina also published a decree establishing a 30-day ban on entry to non-residents who had travelled to a country highly affected by coronavirus in the previous 14 days.
Colombian President Ivan Duque also said the country would close its maritime and land borders effective Tuesday to prevent the spread of the virus, with plans to keep them shut until May 30.
Venezuelan President Nicholas Maduro also ordered the widening of a social quarantine across entire Venezuela from Tuesday, after the total number of cases in the nation doubled to 33.