Asia-Pacific
China
Europe
World News
Coronavirus updates: Spain declares emergency state, some EU states block entry
The Spanish government has declared a state of emergency as the country — the hardest hit by the new coronavirus in Europe after Italy — struggles to stem the spread of the flu-like pathogen.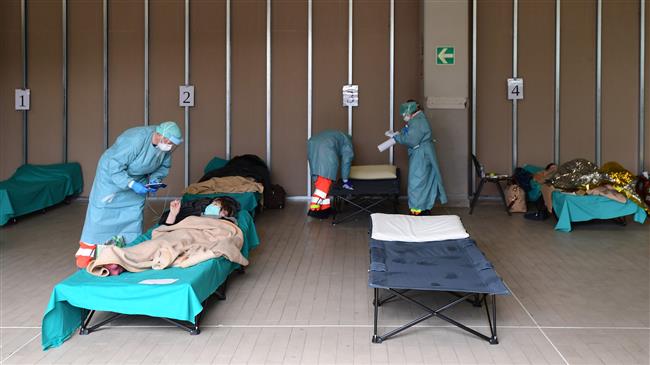 Prime Minister Pedro Sanchez made the announcement on Friday after the number of coronavirus infections in the country jumped to more than 4,200 and the fatalities rose to 120.
The official order would thrust the European country into a 15-day state of alert, closing shops, bars and restaurants in major Spanish regions as well as cancelling public events, parades and gatherings.
Sanchez said the number of confirmed coronavirus cases could top 10,000 by next week — more than double the current level — and asked citizens to play their part, stressing that, " Victory depends on every single one of us… Heroism is also washing your hands and staying home."
The state of emergency would authorize the Spanish government to confine people, ration supplies and requisition factories and buildings, apart from private homes.
Spain's northeastern autonomous region of Catalonia also put four towns under quarantine due to the coronavirus pandemic.
Catalonia's Health Minister Alba Verges told reporters at a presser that authorities would be focusing on Igualada, a town of 40,000 inhabitants which is only 70 kilometers from the regional capital Barcelona, as the number of confirmed cases — currently standing at 58 — was growing rapidly.
Quim Torra, the head of Catalonia's government, urged Madrid to quarantine the rich northeastern region and suspend all maritime, rail and air links to Catalonia.
The COVID-19 disease, caused by the new coronavirus, emerged in the central Chinese city of Wuhan in Hubei Provincial late last year and is currently affecting 131 countries and territories across the globe. It has so far infected more than 138,000 people throughout the world and claimed 5,000 lives, according to a Reuters tally.
US military might have brought coronavirus to China's Wuhan: BeijingThe Chinese government has suggested that the US military might have brought the new coronavirus to the Chinese city of Wuhan.
China's National Health Commission recorded on Friday at least 11 new confirmed cases, up from eight cases a day earlier, bringing the total number to 3,189 across the vast Asian country.
The commission said the virus has infected 80,824 people in mainland China.
Italy hits one-day record with 250 new deaths
Italy, the worst-hit country in Europe, recorded on Friday its highest one-day death toll from cases of the new coronavirus.
There were 250 deaths recorded over the past 24 hours, taking the total to 1,266, with 17,660 infections overall, a rise of 2,547 since Thursday evening, according to official data.
The Italian government told the country's 60 million population to "stay at home" until April 3, allowing travel only for the most urgent work or health reasons.
The government also ordered all shops considered non-essential to be shut down across the country.
This comes as the World Health Organization (WHO) warned that Europe has now become the "epicenter" for the pandemic, reporting more daily cases than China did at the height of its outbreak.
WHO chief Tedros Adhanom Ghebreyesus said in a virtual press conference that "5,000 people have lost their lives, a tragic milestone."
Some European states block entry to foreigners
Also on Friday, Prime Minister Mateusz Morawiecki of Poland announced that foreigners would be banned from entering the country from Sunday and imposed a 14-day quarantine on its nationals coming back home.
"The state will not abandon (its citizens). However, in the current situation we cannot allow ourselves to keep borders open to foreigners," Morawiecki told a news conference.
The polish premier also said shopping malls would be forced to close some shops, adding, restaurants, bars and casinos would be shuttered. Public gatherings would be banned too if more than 50 people were present.
Denmark also announced plans for the closure of its borders as of Saturday noon for non-citizens in an attempt to curb the deadly virus outbreak.
"All tourists, all travel, all vacations, and all foreigners who cannot prove a creditable purpose of entering Denmark, will be denied entrance at the Danish border," Danish Prime Minister Mette Frederiksen said.
The ban would not apply to the transport of goods, including foods, medicine and industry supplies.
Moreover, the Czech government said it would ban as of March 16 all foreign travelers from entering and all Czechs from leaving the country, which has 117 confirmed cases of the virus.
New coronavirus cases reported in South Korea
Meanwhile, health officials in South Korea — the Asia's biggest epidemic outside China — reported 107 new coronavirus cases on Saturday, raising the country's total infections to 8,086 cases.
The Korea Centers for Disease Control and Prevention (KCDC) also reported more recoveries from the flu-like disease than new infections for the second day in a row.
The KCDC said 204 patients were released from hospitals where they had been isolated for treatment. The death toll rose by one to 73.
'State of alarm' declared in Venezuela after first confirmed cases
Venezuelan President Nicolas Maduro declared a state of national alarm on Friday after the country confirmed its first two cases of coronavirus infection.
"We are declaring a state of alarm," Maduro said in a televised appearance on Friday night, calling on Venezuelans to take precautionary measures and demanding that those over 65 stay inside.
Speaking with a blue mask covering his mouth, he encouraged people to wear face masks and advised individuals not to board the metro or take trains without having one on.
Maduro also banned all restaurants from serving patrons on-site, and ordered the closure of bars, clubs and movie theaters in the country.
Classes at public and private schools will be suspended as of Monday.
Earlier in the day, two people in Venezuela had been tested positive for the coronavirus, marking the first cases in the South American country to be confirmed.