Asia-Pacific
China
COVID-19: Countries see outbreaks growing, China's effectively halts
Many countries are adopting stricter measures in response to their outbreaks of the new coronavirus, while China, where the pathogen first emerged and wreaked the most havoc, has effectively brought its epidemic under control.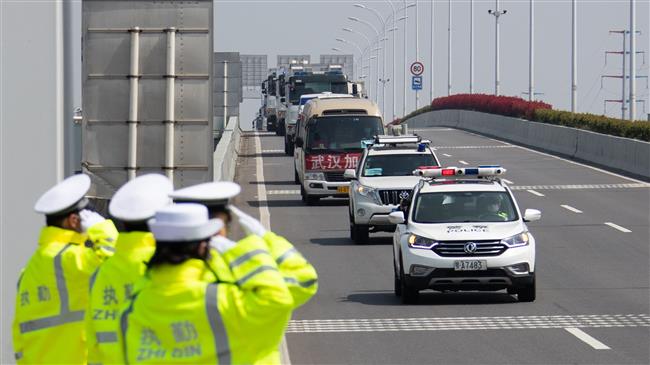 Chinese health officials said on Wednesday that mainland China had had 13 new confirmed cases of the viral infection the day before, of which 12 were infected travelers arriving from abroad, including from Britain, the Netherlands, and Thailand.
It was the fifth consecutive day that imported cases were outnumbering local transmissions, according to China's National Health Commission. China has been adopting measures to screen and quarantine travelers arriving from abroad.
China's latest daily death tally was 11.
The total number of confirmed cases in mainland China now stands at 80,894, the country's health authority said. The overall death toll has reached 3,237.
The recent downfalls in the number of infections have prompted many Chinese cities to gradually relax the strict quarantine measures that were initially imposed after the virus emerged in December last year. This is while many governments across the world are just beginning to adopt harsher restrictions in response to the spread of the virus in their own countries.
South Korea's new cases stay low
South Korea, which has the largest epidemic in Asia after China, said its new infections also maintained a downward trend for the fourth day on Wednesday.
Health officials at the Korea Centers for Disease Control and Prevention (KCDC) reported 93 infections with the new virus, named SARS-CoV-2, on Wednesday.
It brought South Korea's total infection cases to 8,413. And the death toll rose by three to 84.
Australia declares 'human biosecurity emergency'
Australian Prime Minister Scott Morrison declared a "human biosecurity emergency" on Wednesday to fight the coronavirus epidemic that he warned could last at least six months.
Morrison called on all Australians to abandon all overseas travel plans, and banned all non-essential indoor gatherings of more than 100 people.
The Australian prime minister upgraded the official travel advice for Australians to an unprecedented "Level 4: Do not travel" for the entire world.
"Life is changing in Australia, as it is changing all around the world," Morrison said. "Life is going to continue to change, as we deal with the global coronavirus. This is a once-in-a-hundred-year-type event."
Australia supermarket shelves empty again due to virus panicAustralian shoppers flocked to supermarkets across Sydney to stock up on supplies as the spread of coronavirus sparked more panic-buying.
Schools, however, would remain open in Australia.
The country has reported more than 500 cases and six deaths.
Virus reaches Kyrgyzstan from Saudi Arabia
The Central Asian nation of Kyrgyzstan confirmed its first cases of the infection on Wednesday, as three citizens tested positive after arriving from Saudi Arabia.
Healthcare Minister Kosmosbek Cholponbayev broke the news at a press briefing, a day after the country closed its borders to all foreigners.
Kyrgyzstan borders China. Two of its neighbors, Kazakhstan and Uzbekistan, also confirmed their first cases earlier this month.
IMF rejects Venezuela loan request to fight outbreak
Venezuela's President Nicolas Maduro, who has declared a collective quarantine in the country, made a request for a loan to the International Monetary Fund (IMF) to fight the outbreak on Tuesday.
In a letter to IMF chief Kristalina Georgieva, Maduro said a five-billion-dollar loan from the IMF's Rapid Financing Instrument (RFI) "will contribute significantly to strengthening our detection and response systems."
The Washington-based institution, however, rejected the request. It was Venezuela's first loan request to the IMF since 2001.
"Unfortunately, the Fund is not in a position to consider this request," the IMF said, claiming there was "no clarity" about the international status of Maduro's government.
In January 2019, Venezuelan opposition figure Juan Guaido unilaterally declared himself "interim president" of Venezuela, challenging the outcome of the 2018 presidential election and handing the country a national and international crisis. Some governments opposed to Maduro now recognize Guaido as Venezuela's leader.
South Africa's cases jump
South Africa confirmed on Wednesday that the number of infections in the country had jumped from 23 to 85 the day before.
Health Minister Zwelini Mkhize said there had been eight cases of local transmission.
In response to the outbreak, the country's state-owned airline SA Express suspended operations from Wednesday "until further notice."
The Mideast
The coronavirus is also spreading fast across the Middle East, and governments in the region are resorting to stricter measures to fight its outbreak.
Oman will close all shops in malls except for food stores, pharmacies, optical shops, and clinics, the country's state TV said in a tweet on Tuesday.
The government also closed mosques — except for prayer announcements — and all tourist sites, as well as cultural and sports clubs. Gatherings in public places, including beaches and parks, were also banned. So was serving food in restaurants and cafés.
Oman reported nine new cases and a total of 33 on Tuesday.
Qatar also announced numerous precautionary measures on Tuesday, as the total number of coronavirus cases there reached 442 on Tuesday.
The country closed a part of the Industrial Area for 14 days, with salaries being paid for employees working in the closed part, Qatar's high committee for crisis management said.
The country also closed all mosques as well as all shops except for food stores and pharmacies, according to the committee.
Qatar also suspended all incoming flights to the capital, Doha, starting from Wednesday.
Saudi Arabia has already taken drastic measures to combat the outbreak. On Wednesday, it said it would be suspending work in most of the private sector for 15 days.
Health officials have confirmed 171 coronavirus cases in Saudi Arabia as of Tuesday.
Riyadh has closed mosques, calling on people to pray at home. Prayers will continue only at the two holy mosques in Mecca and Medina.
It has also closed schools, restaurants, coffee shops, and malls and suspended international flights.
The kingdom previously suspended work for government employees, except in the health, military, and security sectors.
Bahrain, with 227 cases, announced a financial package of 11.39 billion dollars in response to the economic fallout from the health crisis.
The measures include covering electricity and water payments for individuals and companies for three months starting in April, the Finance Ministry said.
Turkey reports first death
Turkish health officials confirmed the country's first death from the coronavirus on Tuesday.
A day earlier, Turkey had more than doubled its confirmed cases to 98.