Middle East
World News
COVID-19 in Mideast: Preventive measures tightened as infections rise
The Middle Eastern countries are tightening the already-strict precautionary measures they have been taking to contain a coronavirus pandemic as the number of infections with the deadly virus continues to rise across the region.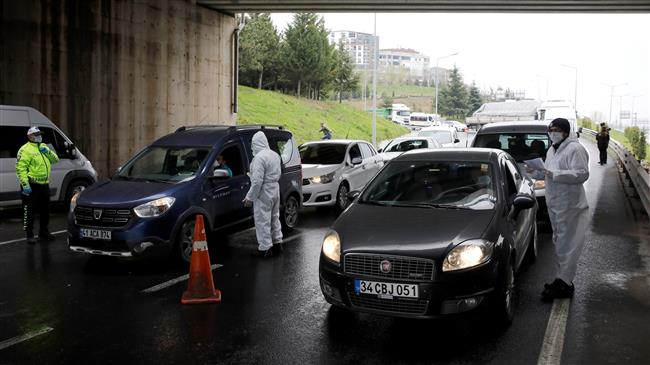 Authorities in the region have been scrambling to contain the spread of COVID 19, a flu-like respiratory disease that first emerged in China in late December 2019 before reaching other parts of the world and overwhelming even the most medically advanced countries.
Over 1,348,000 cases of COVID-19 and nearly 75,000 deaths from the virus have been reported worldwide.
In the Middle East, Iran has been the hardest hit state — with more than 62,500 infections and 3,872 fatalities. Iran is followed by Turkey, which has recorded over 30,200 cases and a death toll of 649.
Saudi puts 24-hour lockdown on cities
Saudi Arabia placed its major cities under a 24-hour curfew on Monday in a bid to curb the spread of the highly contagious virus.
The Saudi Interior Ministry said in a statement that the curfew applied to the cities of Riyadh, Tabuk, Damam, Dharan, Hofuf, and the provinces of Jeddah, Taif, Qatif and Khobar.
Entry to or exit from those areas will not be allowed, except for vital workers, while residents can leave their homes for medical or food needs only between 6 a.m. and 3 p.m. local time.
The kingdom had already imposed a full lockdown on the holy cities of Mecca and Medina.
Saudi Arabia has reported more than 2,600 coronavirus infections and 38 deaths so far.
Kuwait seals off 2 districts
Separately on Monday, Kuwait announced a full lockdown on two densely-populated districts and extended a public holiday by two weeks until April 26 in the face of the outbreak.
"The decision to isolate (the two area areas) is in order to test everyone in there and treat them so it does not impact other areas," the state news agency KUNA quoted the Kuwaiti interior minister as saying.
The Persian Gulf country also extended its partial curfew by two hours in the morning to run from 5 p.m. until 6 a.m. local time until further notice, with the Interior Ministry urging people to stay indoors even during non-curfew hours.
Kuwait has so far recorded 665 coronavirus cases and one death.
Turkeyto build hospitals at Istanbul airports
In Turkey, President Recep Tayyip Erdogan said his government wasbuilding two hospitals to accommodate at least 2,000 patients at airports in Istanbul — the epicenter of the viral outbreak in the country.
The facilities, he said, would open in 45 days.
Erdogan has also barred entry and exit to Istanbul and 30 other cities. Only vehicles carrying essential supplies like food are now allowed in and out. The presidenthas also issued a stay-at-home order for people under the age of 20.
Meanwhile, Turkey's Inonu University began using blood plasma for the passive immunization of coronavirus patients.
"Treatment started yesterday [Sunday] by collecting plasma from a patient who has recovered from the novel coronavirus and subsequently tested negative," said university rector Ahmet Kizilay.
He also referred to China's reported success with the method, which had previously been used to treat SARS and Ebola as well.
"For the first time in Turkey, the Turgut Ozal Medical Center in the university took plasma from recovered COVID-19 patients with the plasmapheresis method and applied it to another patient who is under intensive care in very serious condition. Our aim here is to give the antibodies taken from the recovered patients to the patient in intensive care," Kizilay added.
UAE resumes flights to help foreigners leave
On Monday, Emirates Airline and Etihad Airways, the United Arab Emirates' biggest carriers,resumed limited passenger flights after Abu Dhabi halted all flights to and from the country.
The flights are open to foreign citizens who wish to leave the UAE, but no incoming passengers are allowed, the AFP reported.
The Emirates reported 277 new coronavirus cases, its biggest daily jump, and one new death. In total, it has recorded 2,076 coronavirus cases and 11 deaths.
Zionist settlers spit on Palestinian cars to spread virus
Residents of the Palestinian village of Beit Iksa reported that in a shocking incident, Israeli settlers were spitting on vehicles traveling into and out of the village, located northwest of Jerusalem al-Quds.
They described how Israelis from the Ramot settlement stood at the entrance to the Beit Iksa and spitted on Palestinian cars in an attempt to spread the coronavirus, the Palestinian Wafa news agency reported.
A group of young Palestinians from the village said they confronted the settlers, forced them to leave and then disinfected roads and cars.
Additionally, the Palestinian Chronicle reported that dozens of Israeli occupation forces had stormed several neighborhoods in the West Bank city of al-Khalil (Hebron) and deliberately spitted on the doors of Palestinian homes and cars.
'Coronavirus could infect 90% of war-stricken Yemenis'
Meanwhile, Yemen's Minister of Public Health and Population Taha Al-Mutawakil warned that the coronavirus could infect 90 percent of the population if it entered the impoverished state, which has been the target of a bloody Saudi-led military campaignand siege.
In a speech to the Yemeni House of Representatives, Mutawakil said that if the pandemic reached Yemen, the country would not be able to face it as required because it would exceed its medical and financial capabilities.
The number of potential patients who need hospital admission would reach one million in two months while there are only 1,500 beds available in Yemeni hospitals, he added.
Yemen has not recorded any COVID-19 cases to date, but the possibility of an outbreak threatens the country's fragile healthcare system, which is already struggling to fight cholera and dengue fever.