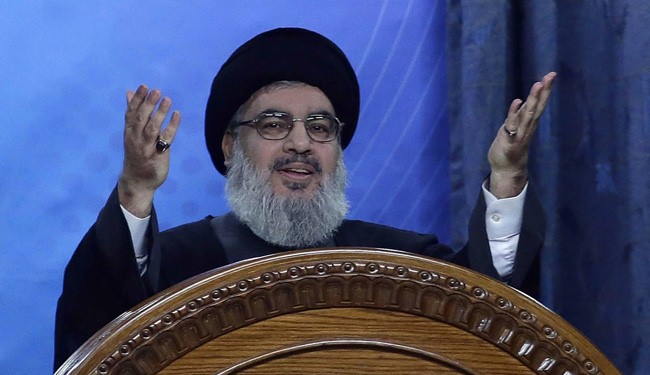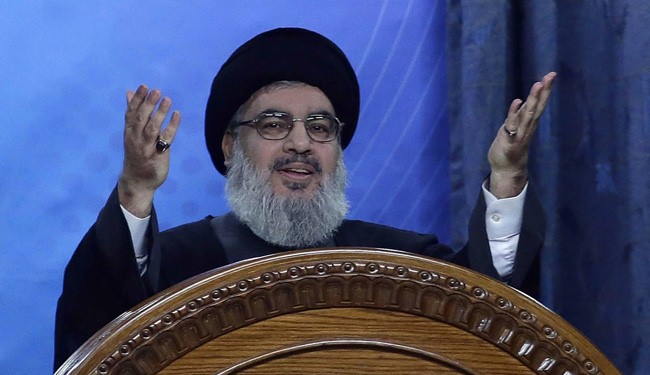 Hezbollah's Secretary General Seyyed Hassan Nasrallah says the ongoing crisis in the region is aimed at redrawing the map of the Middle East.
Nasrallah also said on Monday night that the continuation of the presence of ISIL Takfiri group in the region serves "the interests of Turkey and the US", PRESS TV reported.
He added the campaign waged by the US-led coalition against ISIL only aims to set red lines for the Takfiri group not to "go near Saudi Arabia, Jordan and Erbil (the capital city of Iraq's semi-autonomous Kurdistan region)."
The US was using ISIL as a means to scare and blackmail the people of the region to impose its hegemony, especially in Syria and Iraq, Nasrallah said.
Nasrallah said that he believes Turkey would not join the US-led coalition and accept the American conditions without receiving "genuine benefits." Ankara has conditioned its participation in the US-led coalition on a commitment by the US to overthrow the government in Syria.
He went on to say that terrorist groups such as ISIL and Nusra Front are "incapable of invading any Bekaa area [in east Lebanon] because they are surrounded."
The Takfiri militants have two options, he said: "to die of cold or leave in civilian clothes to Lebanon and Syria."
"Every day that passes, we grow more certain that our fight in Syria was for the sake of protecting Lebanon; and today, we are in the axis of resistance, we stand in a position of victory," he added.
"We are in front of a golden opportunity to break the Takfiri scheme," Nasrallah said.
Sayyed Nasrallah explained that his latest visit to Bekaa region in eastern Lebanon was "to increase my reassurance", highlighting that the recent events in Brital and Asal Al-Wared barrens were just "detailed limitations which have been recovered", contrary to the prevailing media exaggerations, AL-MANAR TV reported.
"In war time, we would have a day of joy and a day of sorrow," he said, adding that "I was briefed on the situation on ground, and traveled on foot several kilometers between positions. I assure you that we are very strong on the ground, preparations are very advanced and our plans are well-knit, and we are ready for any step they (takfiri groups) might do."
Hezbollah has been fighting foreign-backed militants, including ISIL Takfiris, in Syria. It has deployed thousands of fighters to the neighboring country to help President Bashar Assad's forces who have been engaged in fighting with foreign-back militants since 2011.
Western powers and their regional allies — especially Qatar, Saudi Arabia and Turkey — are reportedly supporting the militants operating in Syria.