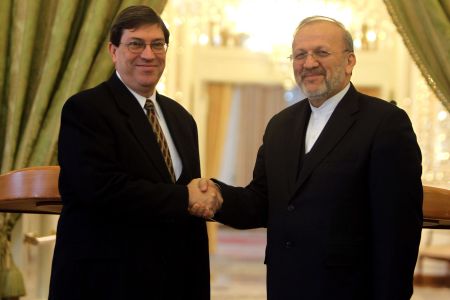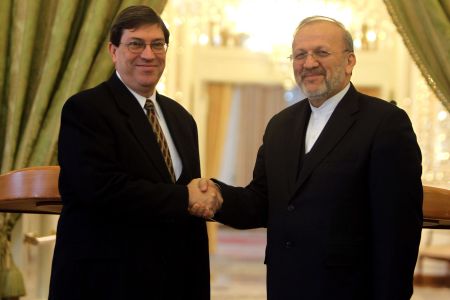 The Cuban foreign minister has condemned the US-backed sanctions slapped on Iran for its peaceful nuclear activities, voicing his country's backing for Tehran's civilian atomic program.
"I would like to express the Cuban government's support for Iran's peaceful nuclear activities," Bruno Rodriguez said in a joint press conference with his Iranian counterpart Manouchehr Mottaki in the Iranian capital of Tehran on Saturday.
He also underscored that Havana will never recognize states which sponsor terrorism, adding Cuba itself has been a victim of terror over the past fifty years.
The top Cuban diplomat also pointed out that Cuba has always cooperated with all countries in fighting terrorism.
The visiting Cuban foreign minister also said his country is interested to work closely with the Islamic Republic in all fields, including political, economic, scientific and cultural areas.
Mottaki, in turn, said Iran and Cuba have "age-old" and "strategic" relations based on mutual understanding and common interests, and are set to upgrade their relations on all fronts.
The top Iranian diplomat highlighted that Rodriguez's trip to Iran will lay the groundwork for further enhancement of mutual cooperation.
He also said the Islamic Republic backs "whatever plan and efforts which can, to whatever extent, restore the rights of the Palestinian nation."
The Iranian minister described the US-brokered talks between Israel and Palestine in Washington as a "show', saying the White House pursues its own interests rather than seeking to settle the Palestinian issue.
Mottaki then touched upon upcoming negotiations between Iran and the 5+1 Group, saying the date and venue of the talks will be announced when they are finalized.
Mottaki then underscored that one of the US strategies is to "drive a wedge" between nations, saying Iran has maintained its close cooperation with its neighboring states and tried to forge closer cooperation with Arab nations as well.
He said many countries have tried to eliminate the dollar from their basket of currencies in a bid to remain independent from the oppressive global economy.