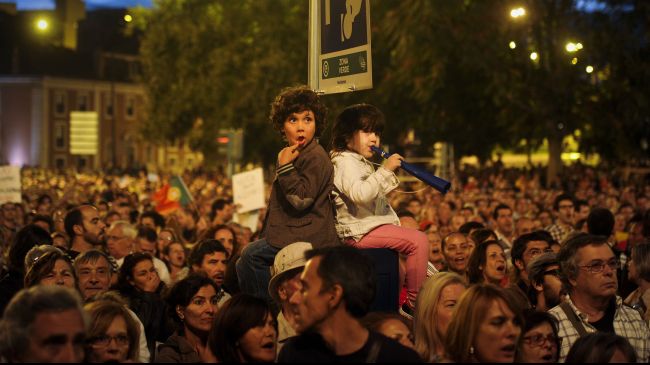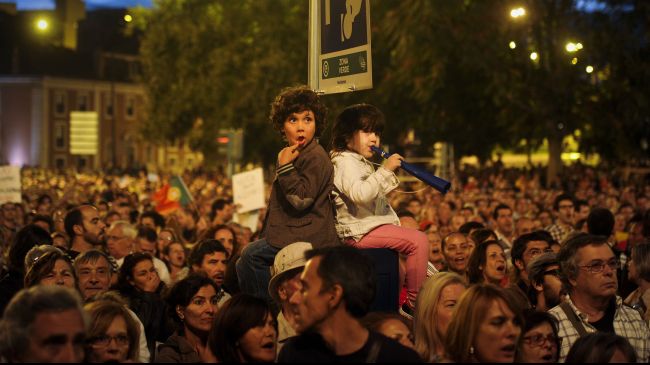 Thousands of people have taken to the streets in Portugal to protest against the austerity measures the government is imposing on the citizens of the country.
Demonstrations were held in Lisbon and a number of other Portuguese cities on Saturday.
The street action in Lisbon and some other cities took on a festive air.
In one of the main squares in Lisbon, concerts were given and other forms of artistic expression were performed by actors, singers, and dancers.
"Culture is resistance, the artists are in the street," was a slogan of the day.
"Portugal has had enough of being robbed and humiliated," read one of the leaflets handed out at the demonstrations.
In a separate demonstration, organized by the General Confederation of Portuguese Workers (CGTP), several thousand people marched to the front of the parliament.
"The government is hanging by a thread… the quicker we cut it, the quicker the government will collapse," CGTP leader Armenio Carlos said.
Tens of thousands of Portuguese have held demonstrations and marches in recent weeks to protest against spending cuts.
Some unions have called a general strike for November 14.
Meanwhile, Portugal's international creditors, including the European Central Bank (ECB), the International Monetary Fund (IMF), and the European Union (EU), are keeping an eye on Portugal's implementation of spending cuts and reforms required in return for the 78-billion-euro ($102 billion) rescue package the country received in 2011.
The creditors have agreed to relax Portugal's deficit targets for 2012 and 2013 as a reward to the country for pushing through reforms.
Battered by the global financial downturn, the Portuguese economy fell into a recession, which compelled the country to negotiate with the IMF for a bailout loan in 2011.
Spain, Greece, Italy, Cyprus, and Portugal are all in recession, and all five are receiving financial assistance from European bailout funds.