Afghanistan
Asia-Pacific
Current cabinet tentative; future govt. will include ethnic leaders: Taliban
The Taliban's current cabinet makeup is only tentative and subject to changes, and the future government of Afghanistan shall be an inclusive one, with roles in governance assigned to leaders of other ethnicities, a spokesperson has told Press TV in an exclusive interview.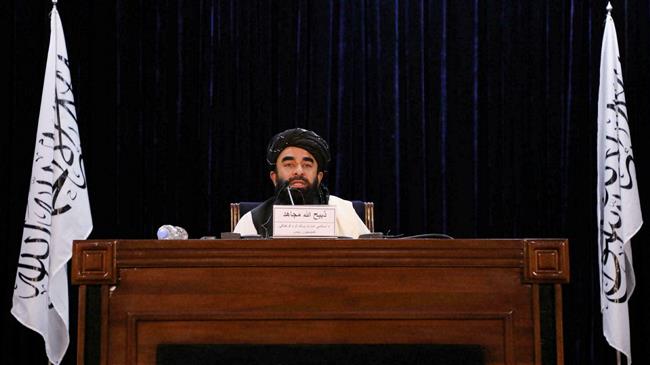 Asked about international criticisms about the Taliban appointing own veteran members to senior government positions despite earlier promises to form an inclusive cabinet, Suhail Shaheen argued that the makeup of the caretaker government was dictated by urgency and that there will be changes in the future so that people from different Afghan ethnicities see themselves represented in the country's management.
"As I said it, is a tentative cabinet. We did such a cabinet because there was urgency; there was vacuum and people needed some essential services. So this cabinet was made on an urgency basis. At the same time, we believe in inclusiveness. There should be [members] from ethnicities [for] people to see themselves in the government. There are some of them here; for example, the prime minister is an Uzbek and some ministers are from Tajik ethnicity, and in the future, there will be more," he stated.
The spokesman also noted that war is over in Afghanistan and the new government is focused on rebuilding the country after a 20-year-long invasion by foreign forces.
Shaheen made the comments when asked how much the Taliban have changed since their previous rule two decades ago.
"Certain media outlets want to marginalize us, to mislead the international opinions against us; they are not based on realities," Shaheen said.
"We were victims of propaganda at that time and right now. At that time, our focus was more on military affairs because we had entered war … but right now it's over, we are focusing on welfare of the people, prosperity of the people, rebuilding the country and creating jobs for the people, expanding education sector and other sectors. That's the main difference," he added.
"Before, we were fighters because our country was occupied. We considered ourselves as fighters to liberate our country. Now we consider ourselves as servants, so there is a need for a servant to be compassionate and tolerant to serve their country and their people," Shaheen stated.
Stressing that the Taliban would refrain from a policy of isolationism and would make efforts to engage with the world, Shaheen said the group wants to work with the international community and also to discuss all issues and address their concerns.
Asked about human rights issues and women's rights, in particular, the Taliban spokesman said, "We are committed to giving women all their basic rights but of course we are an Islamic society, we have a different culture compared to other countries. We are committed to their access to education and to work; so, there is no issue with that."
Addressing concerns of religious and ethnic minority groups as to how they will be treated under the Taliban rule, Shaheen said, "We are all Afghans, we are all Muslims. All Afghans are equal in sight of law. There is no discrimination."
The United States and its NATO allies invaded Afghanistan in 2001 under the pretext that the Taliban militants were harboring al-Qaeda. The invasion removed the Taliban from power but it worsened the security situation in the country.
The group intensified their offensives and rapidly overran major cities over the past month as the United States started what was seen as a hasty withdrawal of its forces from Afghanistan.
The government of Afghanistan rapidly collapsed on August 15 with President Ashraf Ghani fleeing the country in the face of lightning advances of the Taliban.
On September 7, the Taliban announced the formation of a caretaker government.
'No war currently going on in Panjshir'
Shaheen told Press TV that there is "no war or fighting" in Panjshir Valley, held by anti-Takiban forces.
The spokesman said Taliban preferred to resolve the issue of Panjshir through talks but had no choice except for resorting to a military operation when those talks and reconciliation efforts failed.
Shaheen also rejected the allegations that the Taliban had received military assistance from Pakistan in their fight in Panjshir.
"We don't need military aids of any country while we have been fighting for 20 years against the super power and its sophisticated weapons. We have very experienced fighters and weapons," the Taliban official said. "That is one of the propaganda we are facing."
Panjshir has been the only region to hold out against the Taliban following their takeover of Afghanistan in mid-August.
Ahmad Masoud, the son of the late anti-Soviet commander Ahmad Shah Masoud, has been leading a several-thousand-strong force comprised of militias and remnants of the Afghan army and special forces units who are opposed to the Taliban.