Europe
Cypriot protesters burn EU flags over bailout deal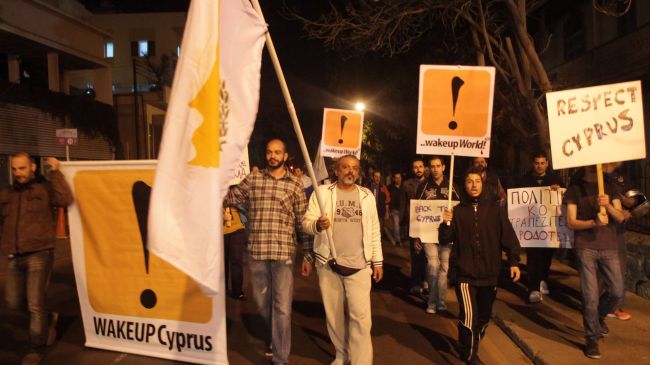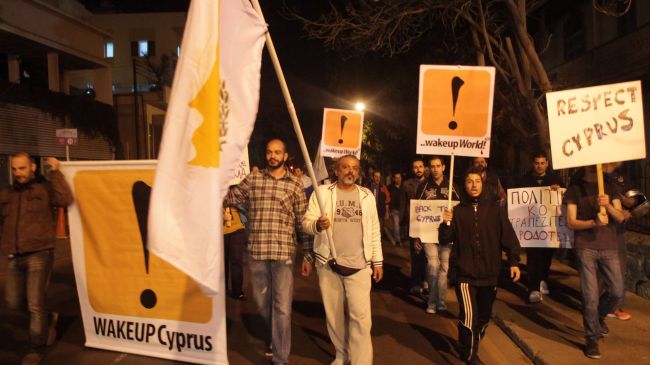 Cypriots have held a demonstration against the restrictions imposed on the European country's banks following an international bailout agreement.
On Tuesday, hundreds of protesters gathered outside the parliament in Nicosia and torched European Union flags. They also shouted slogans against the EU.
The protest was staged by members of a grassroot movement, called "Wake up Cyprus".
The demonstrators briefly blocked traffic in the street leading to the parliament.
On March 25, Nicosia inked a 10-billion-euro ($13 billion) bailout deal, which includes a tax of up to 40 percent on deposits of over 100,000 euros in Cyprus' two biggest banks, with the "troika" of the European Central Bank, the International Monetary Fund, and the European Union.
Based on the deal, wealthy depositors in Cypriot banks stand to lose up to 60 percent of their savings.
On Monday, a Cypriot news network published the names of 132 companies and individuals alleged to have transferred money out of the country before the government accepted the bailout deal to save the cash-strapped nation from bankruptcy.
A judicial probe is set to investigate reports that family members of leading politicians used tip-offs to protect their assets before the deal was struck.
Meanwhile, the Bank of Cyprus said on Monday that it suspended its operations in Romania for a week.
According to bank spokeswoman Liana Voinescu, ten branches of the bank were suspended across Romania.
Officials said they also plan to sell the bank's ten branches in the country.