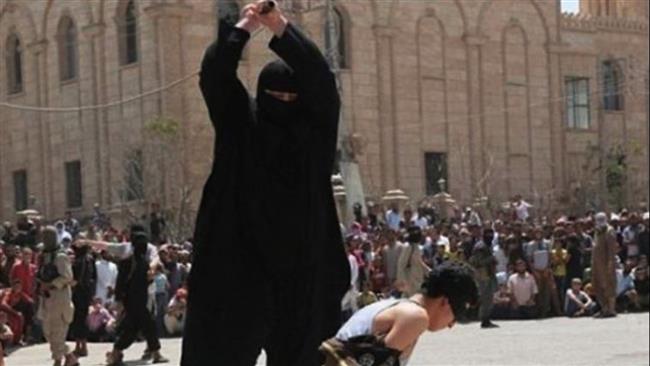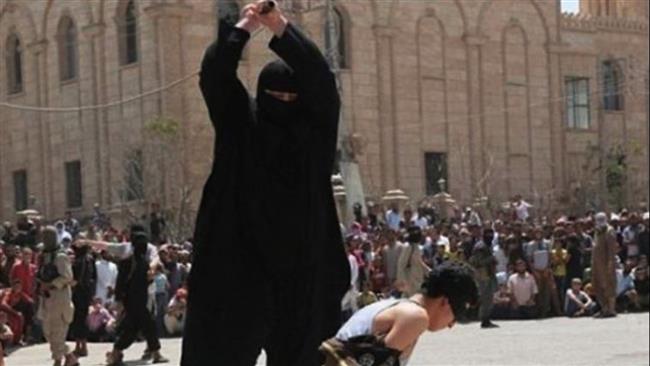 Daesh has beheaded four youths in its stronghold of Raqqah in Syria, with the London-based monitor saying the number of executions by the terrorists in the past two years has exceeded 4,000.
The so-called Syrian Observatory for Human Rights said Sunday the group beheaded the four youths for "photographing sites and handing information to the crusader coalition."
Raqqah is Being Slaughtered Silently (RBSS), a group of citizen journalists who documents abuses in the Daesh stronghold, confirmed the news.
Daesh has executed 4,144 people, most of them civilians, since it proclaimed a so-called "caliphate" in territories under its control in June 2014, the observatory said.
The report said the Syrian army and pro-government forces, Daesh's own members, Kurdish fighters as well as rival Takfiri militants from groups such as al-Nusra Front were among those executed during the period.
The observatory listed regular beheadings, shootings, stoning, throwing people off buildings and setting them on fire as among the killing methods used by Daesh.
The terrorist group often kills people over a series of charges including espionage, alleged cooperation with enemies, apostasy as well as attempts to defect the group and military "cowardice."
The report said 80 people were beheaded and shot dead in Daesh-held areas in the Syrian provinces of Dayr al-Zawr, Raqqah, Damascus, Aleppo, Homs, Hasakah in the month to March 29 this year.
Harry Sarfo, a German-born former Daesh member, recounted atrocities committed by the terrorists group, saying he had witnessed stonings, beheadings, shootings, hands chopped off and many other things.
"I've seen child soldiers — 13-year-old boys with explosive belts and Kalashnikovs. Some boys even driving cars and involved in executions," Safro told the British daily The Independent.
The man reportedly became disillusioned with Daesh over the scale of its brutality and fled the terror group three months after joining it in April 2015.
Sarfo, who grew up in the UK, is currently jailed in Germany over terror offences.
"My worst memory is of the execution of six men shot in the head by Kalashnikovs. The chopping off of a man's hand and making him hold it with the other hand.
Daesh "is not just un-Islamic; it is inhuman. A blood-related brother killed his own brother on suspicion of being a spy. They gave him the order to kill him. It is friends killing friends."
​Daesh has been committing heinous crimes against all ethnic and religious communities in the areas under its control in Iraq and Syria.