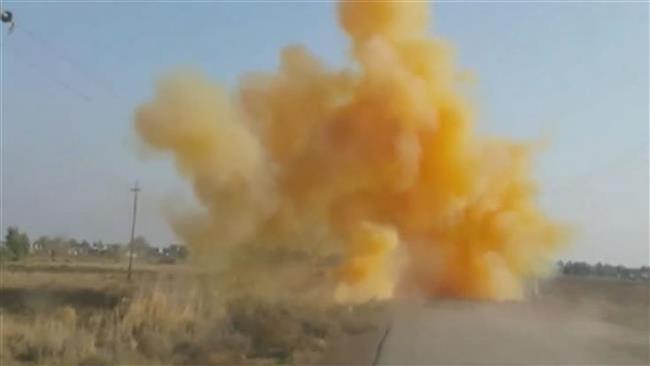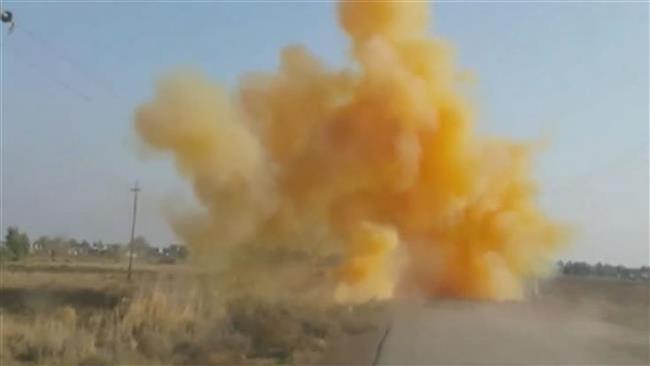 Takfiri Daesh terrorists recently fired mortar shells believed to have been filled with a chemical substance at Kurdish forces near the northern Iraqi town of Sinjar, leaving 30 of them injured, officials say.
Nine Kurdish soldiers were admitted with symptoms including nausea, vomiting, itching and shortness of breath, The Associated Press quoted Dr. Afrasiab Mussa Yones, director of Duhok hospital as saying on Thursday.
Although further investigation into the case is needed, the symptoms indicate the terrorists used chlorine, Yones added.
Meanwhile, Colonel Lukhman Kulli Ibrahim, a Kurdish military officer, said he lost consciousness after the mortar attack, adding he struggled to breathe while his chest and eyes were burning.
Chlorine is a choking agent banned under the 1997 Chemical Weapons Convention, which prohibits all use of toxic agents on the battlefield.
Earlier this week, an unidentified source at the Organization for the Prohibition of Chemical Weapons (OPCW) said laboratory tests confirmed that Daesh militants had used sulfur mustard, commonly known as mustard gas, in Iraq.
Blood samples were taken from some 35 Kurdish troopers who became ill during the anti-Daesh fight southwest of Erbil, the capital of Iraqi Kurdistan autonomous region, last August.
Sulfur mustard is a chemical agent that causes severe delayed burns to the eyes, skin and respiratory tract.
Last October, the OPCW also concluded that mustard gas was used near Syria's northwestern city of Aleppo in August 2015.
While the OPCW had not mentioned direct indications to Daesh, but with a high degree of certainty the terrorist group was behind the chemical attack, Russian Foreign Ministry spokeswoman Maria Zakharova said.
She further warned that Moscow possess information showing Daesh and other Takfiri terrorist groups frequently use chemical warfare agents (CWAs) in Syria and Iraq, where they have swathes of land under control.
Daesh militants have been carrying out horrific acts of violence, such as public decapitations and crucifixions, against all communities, including Shias, Sunnis, Kurds, and Christians in areas they have overrun.