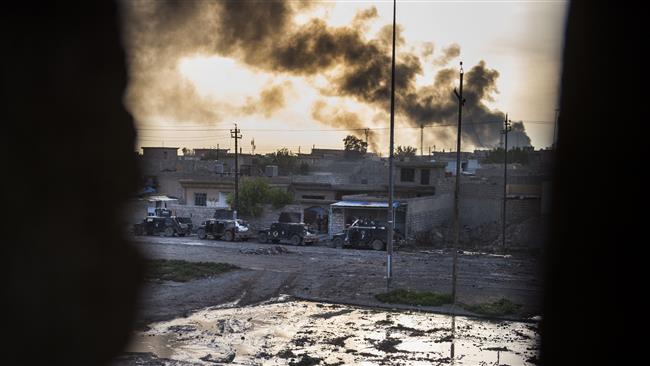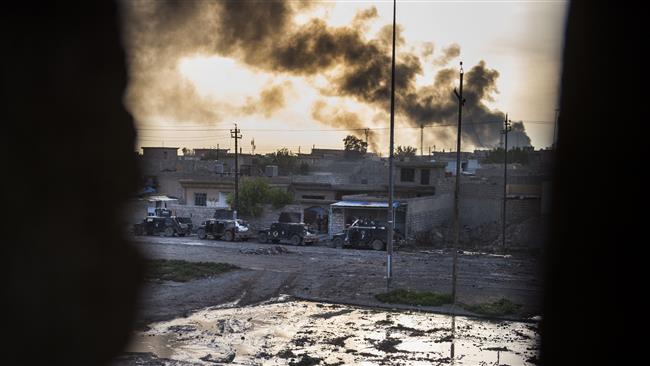 Human Rights Watch (HRW) says Daesh terrorists have staged chemical attacks in the northern Iraqi city of Mosul in the face of advancing Iraqi troops who are trying to retake the city.
As Daesh militants flee, "they have been repeatedly attacking and endangering the civilians they left behind, increasing concerns for residents of Mosul and other contested areas," said Lama Fakih, the HRW's deputy Middle East director, on Friday.
"ISIS has sought to paint itself as protector of Sunni Arabs in Iraq, yet it is willing to use chemical weapons on them in their own homes," Fakih said, using an English acronym for Daesh.
According to the New York-based organization, Daesh launched at least three chemical attacks on the town of Qayyarah south of Mosul in September and October after the town came under Iraqi control in August.
War crimes
The attacks inflicted burns on at least seven people, which point to the use of chemical warfare agents known as "vesicants."
Two of the civilian-populated targets attacked by the group have been identified as a family garden and an area in the vicinity of a café.
"ISIS attacks using toxic chemicals show a brutal disregard for human life and the laws of war," Fakih said, noting that deployment of such weaponry amounted to "war crimes."
On Friday, UN human rights spokeswoman Ravina Shamdasani said the terrorist group was reportedly stockpiling ammonia and sulfur agents in Mosul possibly for use as chemical weapons.
Daesh captured Mosul in 2014, when it launched its terrorist campaign against Iraq. It then named the city its so-called headquarters.
A large-scale offensive is underway by Iraqi military forces and volunteer and Kurdish fighters to retake the city, which Prime Minister Haider al-Abadi has said will be liberated by yearend.
On Saturday, Iraqi Kurds said they had identified the bodies of 52 Daesh ringleaders in the town of Bashiqa near Mosul. Iraq's al-Sumariah TV said they were among 100 Daesh elements killed in the battle of Bashiqa on Monday.
Daesh and other similar terrorist groups have also been accused of using chemical weapons in neighboring Syria.
On Friday, the Russian military said it had found signs of the use of chemical agents by the militants against the northwestern Syrian city of Aleppo.