Syria
Dara'a Battle Map: The Syrian Army Recaptures the East District of Sheikh Miskeen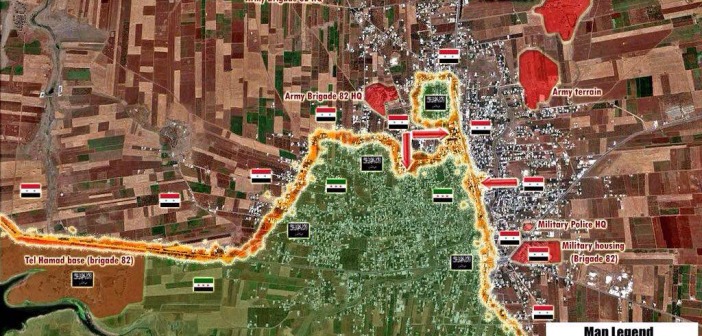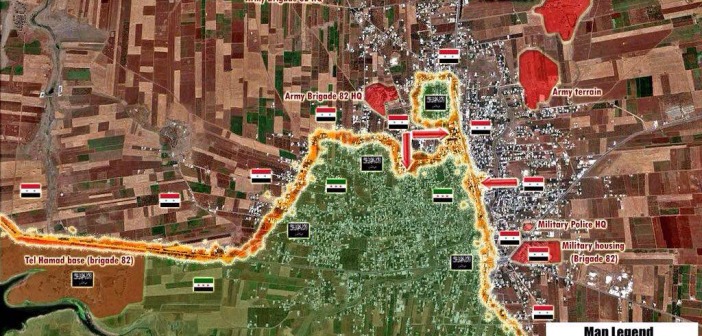 After weeks of heavy firefights in the city of Sheikh Miskeen, the Syrian Arab Army's 12th and 175th Brigades of the 5th Armored Division have capitalized on the Al-Nusra Front's (Jabhat Al-Nusra) feud with their former ally – the Syrian Revolutionaries Front (Jabhat Al-Thawar Al-Souri) – and recaptured the East District. The SAA's success in the East District of Sheikh Miskeen has forestalled the Al-Nusra Front's progress inside the city, while also proving to be a costly failure for the latter due to the significant loss of fighters they sustained.
According to a military source in the Dara'a Governorate, the Al-Nusra Front and its allies suffered over 130 casualties over the last 2 weeks trying to obstruct the SAA's advance near the Sheikh Miskeen Cemetery. Identified amongst the dead was the prominent Al-Nusra Front fighter, Mohammad Moussa Al-Khalidi (Abu Hammam Al-Jazraawi) – he was reportedly from Saudi Arabia and described as a veteran militant for the Syrian Opposition.
The SAA is now in control of 40 percent of Sheikh Miskeen and with reinforcements pouring into the North District; this could be a decisive victory for the SAA Central Command. Assisting the SAA's 5th Armored Division is the 69th Brigade of the 7th Infantry Division near the city of Nawa; these fighters have recently declared the main road leading to the city as under fire control, with only a small pocket of resistance adjacent to the hills of Nawa.
Source: Almasdarnews