Bahrain
'Darkness Gangs' Assault Women, 15 Police to be Charged with Torturing Doctors: Bahrain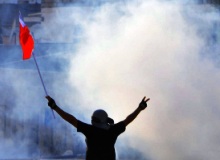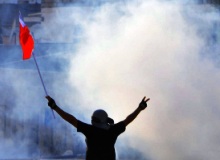 Bahraini regime forces continue to assult peaceful protesters as well as civilians. The forces raided two homes in Sanad on Firday, brutally assaulting a woman in the process. They verbally insulted another women whilst aiming their guns at others.
On the same day, Darkness Gangs raided a home at dusk, as people were preparing to break their fast, insulting, attacking and humiliating those inside.
Also, Darkness Gangs including civil and riot police brutally attacked a pregnant woman by kicking her in the stomach and insulting her with all manner of disrespectful words, showing a lack of any moral or religious values.
Only two days before, the regime forces arrested activist Zeinab Al-Khawaja whilst she was protesting peacefully yesterday evening, as well as a large number of other protesters for participating in a protest that had been banned by the regime.
On another note, 15 Bahraini police officers are to be charged with torturing doctors at Salamaniya hospital who were arrested for treating protesters last year.
Nawaf Hamza, chief investigator in the chief prosecutor's office, said in a statement he was officially making known that members of the forces of law and order would face torture charges resulting from the unrest.
He said the charges were being brought following an inquiry launched on the basis of a complaint by doctors at Salmaniya hospital, the main medical facility in the capital Manama.
"This procedure confirms the intention of the Bahrain government to bring to account all those found guilty of human rights violations and to recompense the victims," Hamza said.
The complainants, also numbering 15, had said the doctors were badly treated during their detention. Some of them underwent medical examination during the inquiry.
Bahrain came under strong criticism from international human rights organizations over last year's crackdown on the protests which took place against Al-Khalifa regime. An international panel commissioned by King Hamad to probe the government's clampdown found out that excessive force and torture had been used against protesters and detainees.