Africa
Asia-Pacific
India
World News
Daughter: Sheikh Zakzaky under Tight Security Measures in Indian Hospital
Daughter of the Nigerian Shiite leader Ibrahim al-Zakzaky said that although her father has been transferred to India for treatment, he is under tight security measures in hospital.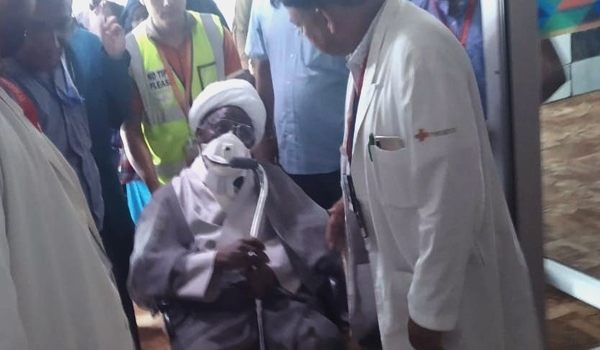 Soheila Zakzaky said on Tuesday that her father is facing different clinical problems, including high blood pressure.
"Although that Sheikh Zakzaky has been transferred to India for treatment, he is not fully free and confined to the hospital building," she added.
Meantime, the Nigerian embassy in India has announced that Zakzaky is under the mission's control and the ambassador, himself, is supervising the procedure of his treatment.
In a statement, the Islamic Movement of Nigeria (IMN) said Ibraheem Zakzaky and his wife had left for Delhi, accompanied by a government security escort to ensure their return.
The group says he has suffered two minor strokes and is losing his sight.
Sheikh Zakzaky, a prominent Shiite leader, has been in detention along with his wife for close to four years despite the deterioration of his health conditions.
Last Tuesday, in an exclusive interview with FNA, Dr. Pourrahim Najafabadi, MD, said Sheikh Zakzaky needs to be cured by an experienced medical team of physicians in a specialized multi-specialty hospital outside Nigeria, since there is no such medical center in the African country.
"With the current physical condition of the Sheikh, especially the virulent lead poisoning, Sheikh's life is seriously at risk by delayed treatment. Meanwhile, there is a need for special medical care even in case of complete medical treatment. There is serious risk to Sheikh's life if he is kept under detention," said Najafabadi, the founder and spokesperson of a group of expert physicians who have volunteered to treat Sheikh Zakzaky.
Also, last Sunday, a group of doctors from Pakistan, India, Iran, Afghanistan, Syria, Lebanon and Iraq in a letter to the Nigerian government pointed to Sheikh Zakzaky's physical conditions, and asked the Nigerian government to transfer him to a well-equipped hospital as soon as possible.
Among Zakzaky's surviving children and supporters, concerns are mounting over his health. The 66-year-old cleric has lost vision in one eye and was in danger of "losing the second one," his lawyer, Femi Falana, told reporters. Zakzaky and his wife still have "pellets of bullets in their bodies," said Falana, which were sustained during their 2015 arrest.
The Shiite cleric was not present in court late in July for a bail hearing since his health was "very bad," said Falana. "That is why we applied that he be excused from appearance in court and it was granted."
On the occasion of President Muhammadu Buhari's second inauguration, Amnesty International has issued a report, Nigeria: Human Rights Agenda, a twenty-page indictment of human rights violations by "state and non-state actors," but with the emphasis on the state security services. It calls on the Buhari administration to address perennial human rights abuses and makes specific recommendations as to what needs to be done.
The report begins with a review of the extensive constitutional and legal protections of human rights in Nigeria and also of the international human rights instruments that Nigeria has ratified, but concludes that Nigeria is facing a worsening human rights crisis across the country.
Human rights activists are concerned that given the Nigerian government's dire human rights record, Sheikh Zakzaky's return to prison would equal to his death.