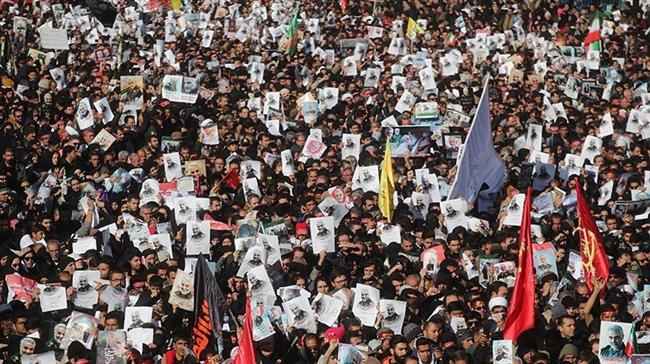 A deadly stampede has erupted during the funeral procession for Iranian commander Lieutenant General Qassem Soleimani in his hometown Kerman, leaving an unspecified number of casualties.
Pir-Hossein Kolivand, head of Iran's Emergency Medical Services, confirmed that 56 mourners have lost their lives and as many as 213 others have been transferred to medical centers in Kerman due to injuries caused by overcrowding.
He explained that Health Minister Saeid Namaki was present at the scene and personally monitoring the emergency aid services.
Ambulances and first aid responders, he said, had already been stationed across the city and were attending to the casualties of the stampede.
Millions of mourners carried Soleimani's body from Kerman's Azadi Square to his final resting place in the martyrs' cemetery.
Iranian President Hassan Rouhani offered condolences to the families of the mourner who lost their lives in the stampede.
He tasked the health minister and First Vice President Es'haq Jahangiri to address the conditions of the injured and investigate the incident, respectively.
US President Donald Trump ordered a drone strike early Friday on General Soleimani's motorcade upon his arrival in the Iraqi capital at the invitation of the Baghdad government.
The attack also killed Abu Mahdi al-Muhandis, the second-in-command of Iraq's Popular Mobilization Units, as well as eight other Iranian and Iraqi people.