Iran
Death Toll from Campus Bus Tragedy Rises to 10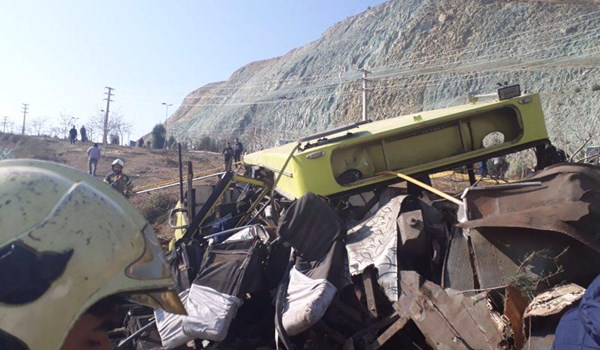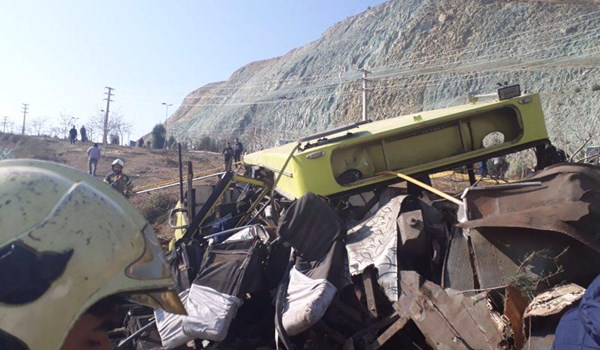 Ten people are now confirmed dead after a bus skidded off the road and overturned at Islamic Azad University's Science and Research branch in Northwestern Tehran on Tuesday, officials said, adding that the number may still rise.
"The number of those killed in the accident has increased to 10, while several others are in critical conditions," Spokesman of Iran's emergency services Mojtaba Khaledi told FNA on Wednesday.
Also, Head of the Public Relations Department of Tehran Emergency Services Mohammad Karam Dorabadi confirmed the death of 10 people in the Tuesday accident, saying another student named Mohammad Reza Fazilati who was hospitalized after the incident has succumbed to serious injuries.
The accident also injured 26 others who have been hospitalized, he added.
Unconfirmed reports said the bus driver had experienced a heart failure seconds before the incident, adding that the driver who is among the dead lost control of the bus after his heart attack and then ran into a concrete wall, overturning the bus.
The director of the public affairs at Tehran's Emergency services, however, dismissed such reports, saying it cannot be decided yet whether the driver was dead prior to the incident or passed away in the accident.
Other reports also said that the accident happened due to the malfunction of the bus brakes and the driver's inability to control the fast moving vehicle that was racing down the slope.
Investigations into the cause of the incident are still underway.
The Science and Research Center of the Islamic Azad University hosts thousands of students in various fields of science and technology and is one of the Iranian top universities in chemical engineering. The facualties are mostly on hilltops, and students and staff, who leave their cars in several multiple-storied buildings and parking areas at entrace gates, need to take a free bus ride to a dozen facualties up on the hills through a very steep slope. Once winter arrives, the trip down the hills on these buses makes quite a journey.
The accident scene shows that the bus had for one reason or another skidded off the road in one of the several steep turns and tumbled over the top several times before it eventually stopped down the main hill.