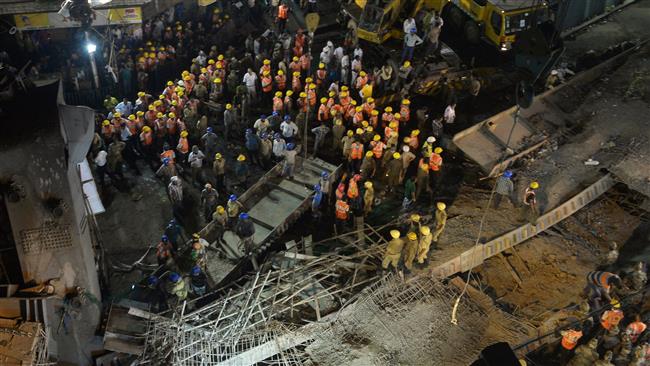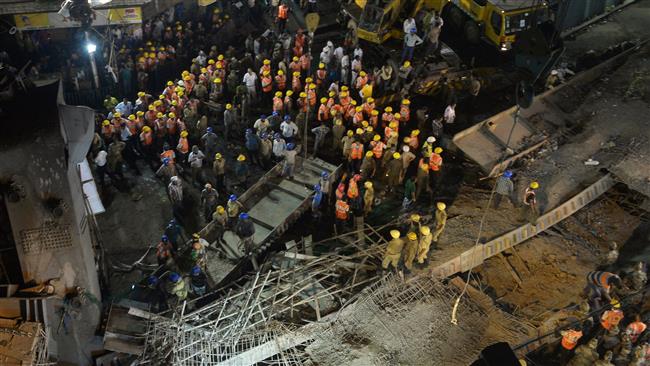 The death toll from the collapse of an overpass in the Indian city of Kolkata has risen to 25, with emergency officials saying there is little hope to find more survivors trapped under the ruins.
The overpass crashed down onto pedestrians and vehicles in a busy street in Burrabazar area on Thursday night. It had been under construction since 2009 and had missed a number of completion deadlines.
On Friday, deputy police commissioner Akhilesh Chaturvedi said the rescue operation will continue until "all the blocks of concrete and iron girders have been cleared."
"Nearly 300 rescuers, including army and disaster management personnel, are working around the clock to clear the rubble," he added.
The country's National Disaster Response Force (NDRF) said that there was little hope to find any more survivors trapped under the concrete and steel bridge.
Police chief Ajay Tyagi said that around 100 people have been rescued, but that many of them have been seriously injured.
Police also announced that they have opened a case of culpable homicide against the contractor of in the bridge construction project, the company IVRCL.
Police officers sealed off the IVRCL's local offices and a police team was sent to the southern city of Hyderabad to interview the managers at the company's headquarters.
It was not immediately clear what was the cause of the incident, but reports said that India's construction projects have been plagued with the use of substandard materials and a lack of inspections.
An injured construction worker said they "were cementing two iron girders for the pillars, but they couldn't take the weight of the cement."
"The bolts started coming out this morning and then the flyover came crashing down," he said.