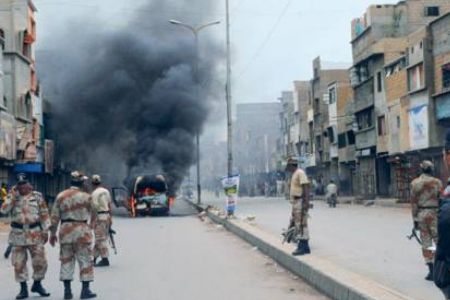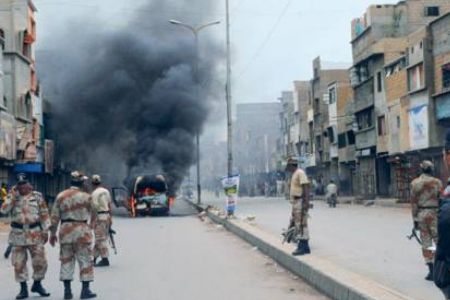 The death toll from the political violence in Pakistan's financial capital Karachi has reached 62 after two days of unrest in the southern city.
Over 100 others were injured in the last two days following the violence that erupted after the killing of a politician in Karachi, AFP reported.
On Tuesday, Pakistani security forces arrested at least 40 suspected people in connection with the murder of lawmaker Raza Haider who was also the leader of Muttahida Quami Movement (MQM) in southern Karachi city.
"Hospitals received 14 more bodies of victims of violence overnight, increasing the death toll to 60," said Jameel Soomro, spokesman for the government in southern province of Sindh.
"The situation is still tense and there are reports from some areas of intermittent gunfire," the official said.
People torched dozens of vehicles, petrol pumps and shops as situation remained tense in the city.
Security has beefed up and in the city and additional contingents of police and Rangers are patrolling in different areas.
The MQM has called for a high-level inquiry into Raza Haider's murder and has put the blame for the killing on Awami National Party.
The MQM's leaders said in a Press Conference that the attack could be due to the party's strong stance against the Taliban and other militant groups.