Iran
Death toll rises to 250, injure 2,000 in Iran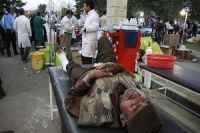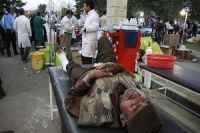 At least 250 people have been killed and over 2,000 others injured in two powerful earthquakes and subsequent aftershocks that rocked Iran's northwestern province of East Azarbaijan.
According to Press TV, on Saturday, a 6.4-magnitude earthquake struck the city of Ahar, near the provincial capital Tabriz, at 15:53 local time. The quake struck 60 kilometers northeast of Tabriz at a depth of 9.9 kilometers.
Another quake measuring 6.3 on the Richter scale jolted Varzaqan and Haris, which are located near Ahar, 11 minutes later at a similar depth. The epicenter of the quake was 49 kilometers northeast of Tabriz.
According to unconfirmed reports, four villages have been completely destroyed by the earthquake and about 60 others have been partially destroyed.
Thousands of people were forced to remain outdoors as at least 20 aftershocks rocked the area.
East Azarbaijan Crisis Management Headquarters Director Khalil Saei confirmed the death toll and the number of injured people.
He said rescue operation teams have been deployed to the area to help the victims of the quakes.
Iran is located on seismic fault lines and is prone to earthquakes, experiencing at least one small tremor per day on average.