Asia-Pacific
Human Rights
Myanmar
Deaths from crackdown in Myanmar surpass 500
A local monitoring group in Myanmar says more than 500 people have so far been killed in a brutal crackdown by the country's junta on protesters. Meanwhile, activists plan to step up a civil disobedience campaign by launching a "garbage strike."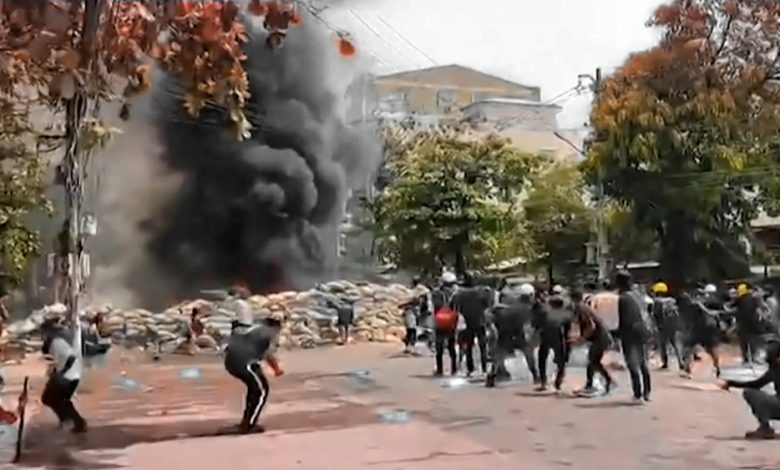 The Assistance Association for Political Prisoners (AAPP) said on Tuesday that at least 510 civilians had been killed since the February 1 coup in Mynamar.
The military arrested Myanmar's de facto leader Aung San Suu Kyi and her associates on the day of the coup over the accusation that her National League for Democracy (NLD) party had cheated in elections in November 2020.
People have since been protesting the military takeover of power on the streets.
According to the AAPP, the total number of fatalities from a major crackdown on protests on Saturday — the deadliest day since the coup — also increased to 141.
In defiance of the brutal crackdown, protesters took to the streets again on Monday, when 14 people were killed, according to the AAPP.
State television called the protesters "violent terrorist people" and said the military had only used "riot weapons" against them.
The coup and the ensuing violence have drawn wide international condemnation.
United Nations (UN) Secretary-General Antonio Guterres decried the violence as "absolutely unacceptable," calling for an end to the repression.
"It is absolutely unacceptable to see violence against people at such high levels, so many people killed," Guterres said at a news conference on Monday.
"We need more unity… (and) more commitment from the international community to put pressure in order to make sure that the situation is reversed," he added.
Also on Monday, France denounced the violence as "blind and deadly."
China urged restraint by all sides. And Russia said it was "very concerned" by the rising civilian casualties.
In an attempt to ramp up pressure on the junta, US Trade Representative Katherine Tai on Monday announced the suspension of a 2013 general trade agreement with Myanmar until the return of a democratically-elected government.
As the nationwide protests and international condemnation have failed to sway the generals, activists on Tuesday asked residents to throw garbage onto the streets on key road intersections.
"This garbage strike is a strike to oppose the junta," read a poster on social media.
In an open letter on Facebook on Monday, the General Strike Committee of Nationalities (GSCN), a main protest group, urged ethnic minority forces to help those standing up to the "unfair oppression" of the military.
In an apparent response to the call, three groups in a joint letter on Tuesday urged the junta to stop killing peaceful demonstrators and resolve political issues.
The groups, namely the Myanmar National Democratic Alliance Army, the Arakan Army, and Ta'ang National Liberation Army, warned that they "will cooperate with all nationalities who are joining Myanmar's spring revolution in terms of self defense" if the military fails to meet their demands.