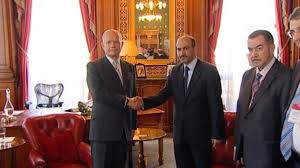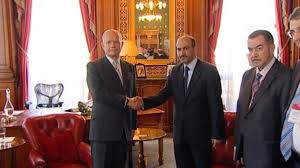 Syrian opposition chief Ahmad Jarba told Western and ArabFriends of Syria allies on Tuesday the group will not attend peace talks unless the goal is to remove President Bashar al-Assad from power.
Jarba said the opposition risks losing credibility if it yields to international pressure to attend talks that do not aim at Assad's removal, during his speech he made to a "Friends of Syria" meeting in London.
The London talks grouped Britain, Egypt, France, Germany, Italy, Jordan, Qatar, Saudi Arabia, Turkey and the United Arab Emirates and the United States, together with Syrian opposition leaders.
"The people will not believe us and will regard us as traitors to the revolution and to the blood of the rebels," Jarba added.
Western nations and their Middle Eastern allies pressed Jarba's opposition Syrian National Coalition on Tuesday to join the talks.
"The Sultan must leave," Jarba said, in reference to Assad. "Geneva cannot succeed and we cannot take part if it allows Assad to gain more time to spill the blood of our people while the world looks on."
British Foreign Secretary William Hague, hosting the meeting of 11 nations, said beforehand that it was vital that all elements of the Western-backed Syrian opposition join the talks.