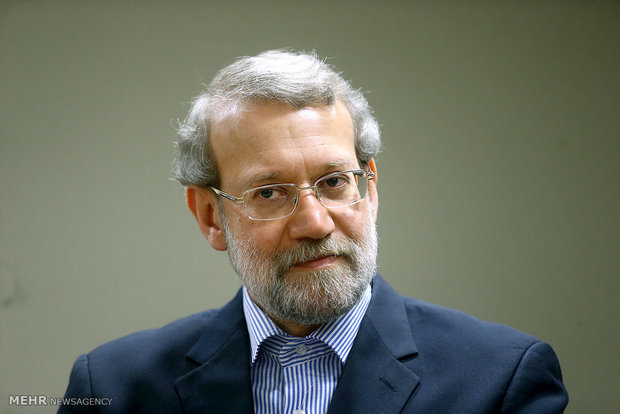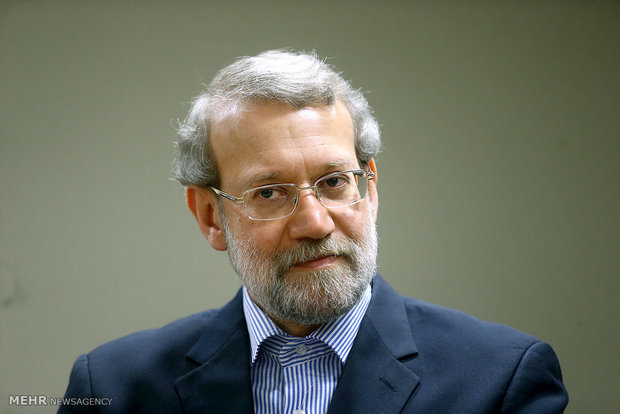 Iran's parliament speaker has said Iranian people and authorities defend Palestine as a religious commitment.
According to the Public Relations Department of the Iran's Parliament, Ali Larijani met and talked with a gathering of Palestinian groups.
Larijani deemed the issue of Palestine as one of the most important issues in the Islamic Republic of Iran confirming "backing Palestinians marks a religious obligation for the Iranian nation."
Parliament speaker went on to add that "currently, the situation in the region has become extremely tough as we observe the emergence of crises particularly terrorism which has provided proper grounds for the measures pursued by the Zionist regime."
He urged the unity of Islamic states for supporting Palestine asserting "the issue of safeguarding Palestine remains as a focal point in Iran upon which all political parties have consensus while the Leader of Islamic Revolution also holds a strong and clear opinion towards the Palestinian nation."
"Unfortunately, the organized measures and conspiracies have diverted attention from the Palestine issue; indeed, many of the ongoing issues could have been prevented if some Western countries like the US as well as a number of regional countries had not interfered," he continued.
The official further maintained that "some countries have focused on the controversy between Shia and Sunni while it has been a colonial issue exploited by the enemy to throw a dispute between Islamic nations."
"Iran would not distinguish between Shia and Sunni in supporting Islamic countries as we have backed the Palestinian nation over the past 37 years since both sects share similar principles and essential minutiae," he underlined.
"The Islamic Republic of Iran supports the Palestinian Intifada as well as all Palestinian groups in resisting the Zionist regime," reiterated Ali Larijani calling for all-inclusive effort to once again turn the Palestinian issue into the main theme of the Muslim world.
The head of the Palestinian delegation, for his part, appreciated the stance and actions of people and authorities of the Islamic Republic of Iran in support of the Palestinian people stressing "undoubtedly, Iran has the biggest supporter of the Palestinian people and the Palestinian cause in the past 37 years."
"Over the recent years with the inception of regional crises, many attempts have been made to eliminate the Palestinian issue but the stability of the resistance axis in Syria, Lebanon and Iran had thwarted enemies' plots," he concluded.