Iran
Middle East
Palestine
Defense chief vows 'firm' response to any Israeli act of 'piracy' against Iran oil shipments
Defense Minister Brigadier General Amir Hatami says Iran views any Israeli naval action against the country's oil shipments as "piracy," vowing a "firm" response to such an assault.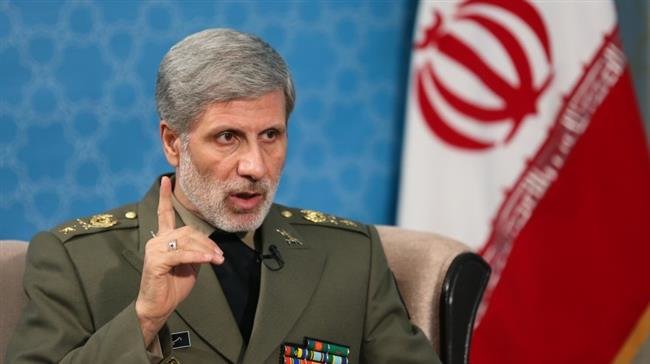 The Iranian defense chief was reacting to recent belligerent comments by Israeli Prime Minister Benjamin Netanyahu, who threatened last week to block what he called Iran's "covert" oil shipments over maritime routes meant to "circumvent" US sanctions.
"As these attempts expand, the navy will have a more important role in efforts to block these Iranian actions," Netanyahu said.
In response, Hatami warned on Wednesday that a "firm response" awaits the Tel Aviv regime if it carries out the threat, adding, "The international community will also not accept it."
"Certainly, if they (the Israelis) have such an intention, the issue would constitute piracy and an [instance of] international insecurity," he told IRNA news agency.
The defense minister also emphasized that the Iranian Armed Forces stand ready to safeguard ships and the security of international waterways.
"The armed forces of the Islamic Republic of Iran have the necessary capability to protect the country's shipping lines in the best way against any possible threat," he added.
Netanyahu's threat was not the first of its kind against Iran's oil export.
Last November, Brian Hook, the US special representative for Iran, threatened global shipping and insurance industries that insuring Iranian tankers would incur penalties under Washington's sanctions against Tehran.
"From the Suez Canal to the Strait of Malacca and all choke points in between, Iranian tankers are now a floating liability," he said. "Countries, ports and canal operators and private firms should know they will be likely responsible for the costs of an accident involving a self-insured Iranian tanker."
Iran's UK Embassy submits a letter of complaint to the London-based the International Maritime Organization over the American bans targeting Iranian vessels.
The threat as the US re-instated the second phase of its sanctions against Iran after scrapping the 2015 nuclear deal in May in defiance of international objections.
Upon re-instating those bans, which mainly targeted Iran's banking and energy sectors, Washington vowed to cut Tehran's oil exports to "zero" and sought to pressure customers to stop their purchase of Iranian oil.
The other signatories to the JCPOA have vowed efforts to compensate for Washington's absence and make sure Iran will be able to collect its economic dividends of the deal, among them selling oil freely.
Following Hook's threat, Tehran lodged a complaint with the International Maritime Organization (IMO) against the US over the re-imposition of the bans, which target scores of Iranian ships.
As a specialized agency of the UN, the IMO — which has 174 member states — is tasked with regulating international shipping. The organization works to promote "safe, secure, environmentally sound, efficient and sustainable shipping through cooperation," as its mission statement reads.
In recent years, Iran's Navy has increased its presence in international waters to protect naval routes and provide security for merchant vessels and tankers.
It has also managed to foil several attacks on both Iranian and foreign tankers during its missions in international waters.