Palestine
Demo due in Jordan over Jordan-israel gas deal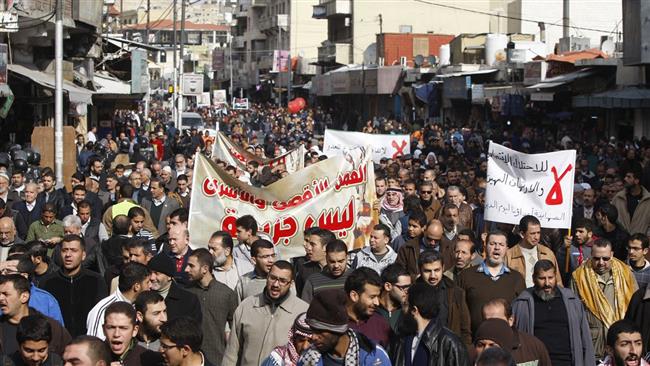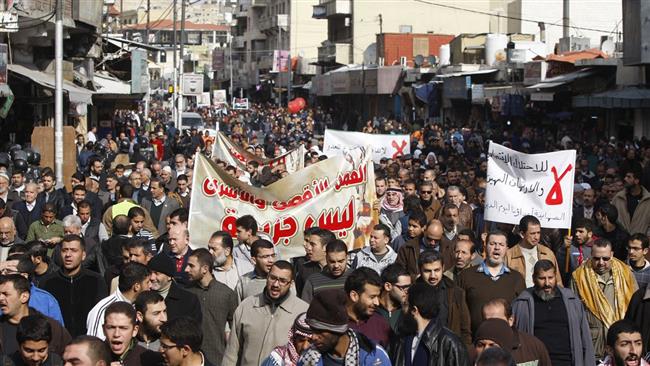 Campaigners in Jordan have organized a rally to protest against the Arab country's natural gas deal with the Israeli regime.
Jordanians will take to the streets in the capital city of Amman later on Friday to show their anger at Jordan's deal to buy "stolen" Palestinian gas from Israel, said Hisham Bustani, the coordinator of the campaign.
"There will be other demonstrations in the Irbid, Zarqa, Karak, Madaba and Maan governorates at the same time as Friday's march to protest the deal," he stated, adding the notorious contract "will put the country under the control of the Zionist entity."
Campaigners also slammed the Jordanian government for its policy on Israel, saying the deal betrays the Palestinian cause since it justifies the occupation of Palestinian territories by the Tel Aviv regime.
"The Jordanian people reject all the dubious deals with our enemy that aim to normalize relations. The [Jordanian] regime must reconcile itself with its people," said Ali Abu Sukkar, deputy secretary-general of the Islamic Action Front, Jordan's largest opposition party.
Back in September 2014, Jordan's National Electric Power Company (NEPCO) and the US Noble Energy signed a letter of intent for the exportation of natural gas to the Arab country over a period of 15 years.
The agreement, if finalized, is set to come into effect in late 2017 and its value will amount to USD 15 billion.
The Jordanian opposition criticizes the deal as the Texas-based energy firm is a major stockholder in Israel's Leviathan gas field, located nearly 130 kilometers west of the Mediterranean port city of Haifa.
In January, the kingdom announced that it had halted talks with the American company, but seems to have altered its decision under pressure from the Israeli lobby.
Israel-Egypt gas deal
In October 2014, the Israeli owner of the Tamar offshore gas field signed a deal with the Egyptian firm, Delphinus Holdings, to annually export more than 2.5 billion cubic meters (bcm) of natural gas to Egypt over a seven-year period.
The deal turned the tables on gas supplies in the region as it was Cairo which used to provide Tel Aviv with gas in the near past.
Despite the paralyzing energy crisis in the Arab country, most Egyptians denounce the idea of trade with Israel as unacceptable and highly controversial.