Syria
Demos held across world over US-led military strike on Syria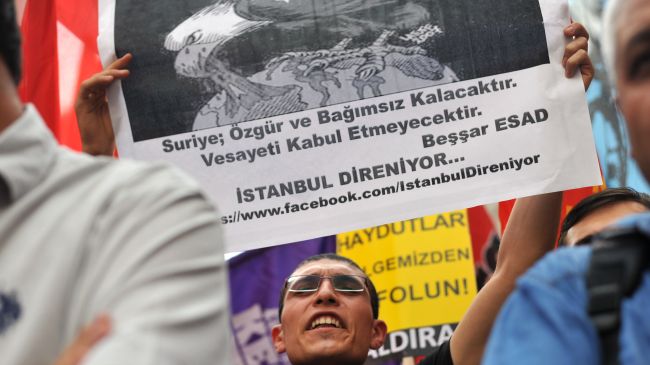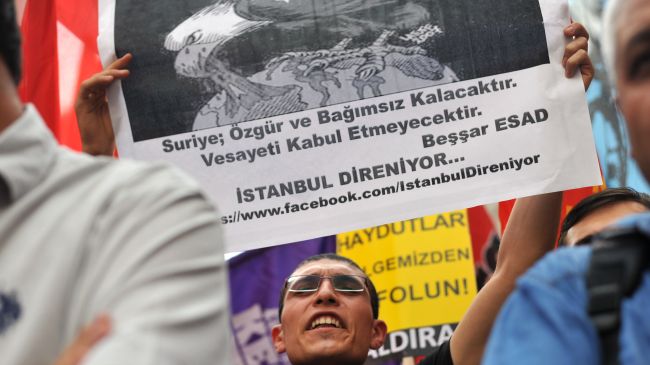 People around the world have held demonstrations to express opposition to a Western military intervention in Syria.
In Jordan's capital, Amman, protesters expressed support for the government of Syrian President Bashar al-Assad and chanted anti-US slogans on Friday.
"We are here today in protest against the prospective strike on Syria. The Arab people oppose any military strike by the United States and its NATO allies against Syria," said a protester during the rally.
Another protester said, "We reject the Zionist and the American attack against the Syrian land. We are against such an attack, and we are against any strategic movements on the ground (against Syria)."
The rally follows similar demonstrations in other countries.
In Turkey, people gathered outside the US consulate in the southern city of Adana to denounce the possible military action on the Arab country.
In the Turkish city of Istanbul, people held similar demonstrations and chanted slogans against the United States.
Anti-war demonstrations were held in Venezuela and Greece as well.
On Thursday, Londoners took to the streets to say no to a strike on Syria while in the US, anti-war rallies were held in a number of cities including Washington, Los Angeles, Chicago and New York.
On August 21, the militants operating inside Syria and the foreign-backed Syrian opposition claimed that hundreds had been killed in a government chemical attack on militant strongholds in the Damascus suburbs of Ain Tarma, Zamalka and Jobar.
A number of Western and Arab countries have also accused Damascus of carrying out the attack.
However, the Syrian government has denied their allegations as baseless.
Since August 27, speculations have become stronger about the possibility of a military attack on Syria.
The UK parliament on Thursday voted against a motion by British Prime Minister David Cameron to authorize military action against Syria.
Washington says it is willing to carry out an attack against Syria without the approval of the UN or its allies.
Syria has been gripped by deadly unrest since 2011. According to the United Nations, more than 100,000 people have been killed and millions displaced due to the violence.