Iran
Deputy Army Commander: Iranian Armed Forces Ready to Confront Any Threat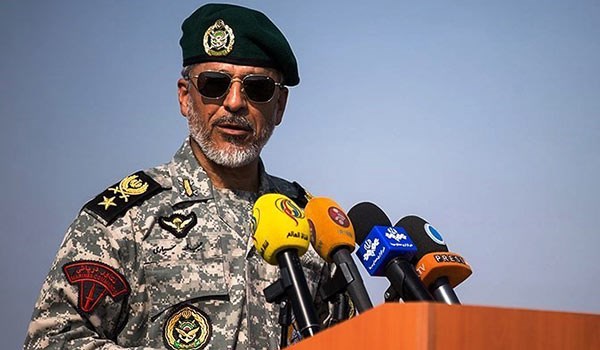 The Iranian Army's Deputy Commander for Coordination Rear Admiral Habibollah Sayyari underlined Iran's superiority over the dangers threatening the region, stressing preparedness of the country's Armed Forces for all types of threats.
"We enjoy full superiority and knowledge over the threats in the region and prepare ourselves proportionate to the threats," Rear Admiral Sayyari said on the sidelines of the first day of Naval drills in the Persian Gulf and the Sea of Oman on Friday.
"Our Armed Forces are capable of confronting any threat," he added.
Rear Admiral Sayyari underlined that different wargames staged in Iran during the current year displayed the defense power of the country's Army.
Iranian naval forces on Friday started a massive three-day drill, codenamed 'Velayat 97, in the Persian Gulf and the Sea of Oman.
The drills are being held in an area of two million square kilometers, from the Strait of Hormuz to the Southeastern coasts of Makran, the Sea of Oman and the Northern parts of the Indian Ocean, down to the 10-degrees latitude.
The war games are composed of four separate phases, including naval parades, simulation of a real naval war, maritime and land offense to practice recapturing the territories occupied by the enemy, and the display of the Navy's power by launching various types of missiles and torpedoes, Navy Commander Rear Admiral Hossein Khanzadi said Thursday.
For the first time, the Iranian navy is to fly patrol, reconnaissance and bomber drones during the drill, he added. Submarines will launch missiles in the drill for the first time, and anti-submarine helicopters will also land on and take off from the deck of Sahand destroyer.
Electronic warfare tactics and electronic data transmission from the coast are among other parts of the exercise, he said.