Iran
Middle East
World News
Deputy FM: Baku Welcomes Iran's Initiative to End Dispute with Yerevan
Iranian Deputy Foreign Minister Seyed Abbas Araqchi said on Thursday that Azerbaijan has welcomed his country's initiative to settle the dispute between Baku and Yerevan.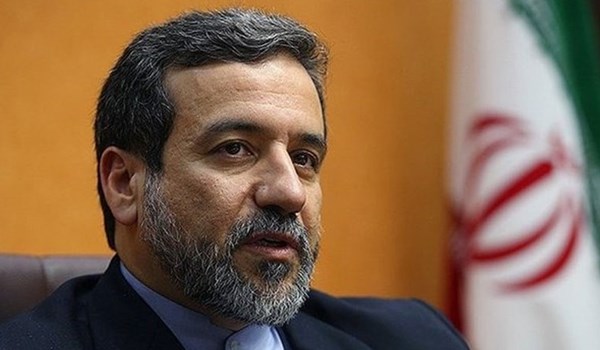 Araqchi said that he had started talks with deputy foreign minister, deputy prime minister, president aide, and president of Azerbaijan about putting an end to the conflict between Yerevan and Baku.
He noted that his meeting with Azeri President Ilham Aliev had lasted for one and a half hours, adding that Azeri officials had a positive approach toward Iran's plan for sustainable peace in the region.
Araqchi expressed the hope that a collective move by the regional countries would reach a collective solution and stop further bloodshed.
In Iran's peace plan, the ceasefire will start after some preliminary measures, which is a realistic approach towards the field developments, he added.
He commented that Iran's plan for peace between Azerbaijan and Armenia can be implemented after the issue is discussed with other regional countries.
Araqchi presented his country's proposed initiative to settle the Karabakh dispute between Baku and Yerevan to Aliyev on Wednesday.
Upon arrival in Baku, Araqchi had said that ending Karabakh occupation is part of Tehran's initiative for termination of the ongoing conflict between Armenia and Republic of Azerbaijan.
Araqchi is the special envoy of Iran to advance the country's initiative for the crisis between the two neighboring countries.
He said that as the first step the occupied territories should be liberated to advance with the other parts of settlement of disputes between Baku and Yerevan.
The official added that he will go to the regional countries that are effective in ending the conflict between Azerbaijan Republic and Armenia.
"In several stages, the initiative can lead to a lasting peace and end the conflict and occupation of the territories of Azerbaijan Republic," he said.
"Ending the conflict and starting a dialogue with the help of influential countries with the aim of ensuring peace is another key subject of the initiative," he said.
The conflict between Armenia and Azerbaijan over the highland region of Nagorno-Karabakh, a disputed territory that had been part of Azerbaijan before the Soviet Union break-up, but primarily populated by ethnic Armenians, broke out in February 1988 after the Nagorno-Karabakh Autonomous Region announced its withdrawal from the Azerbaijan Soviet Socialist Republic.