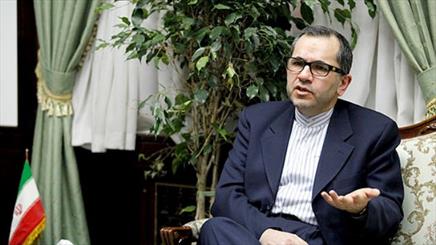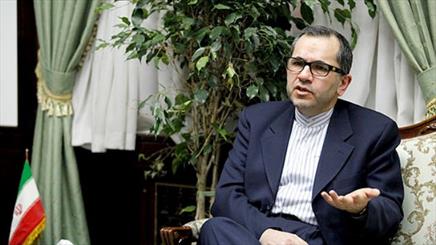 Iran's deputy foreign minister for Europe and American Affairs has said Iran is resolved to improve relations with Latin American countries.
Majid Takht Ravanchi, who was speaking in the meeting to commemorate the 112th anniversary of Treaty of Amity and 50th anniversary of establishment of Iran-Mexico diplomatic relations Saturday morning where Mr. Carlos Vila Casa, Mexican deputy-foreign minister, was attending, said that the Latin American sides displayed a will as well to boost bilateral relations.
Mr. Vila Casa is visiting Iran and has signed a number of memoranda of understanding between head of Foreign Ministry's School of International Relations and Mexican School of International Relations. Both deputy-ministers inaugurated a joint memorial stamp of bilateral diplomatic relations. They also visited a fair exhibiting historical records of bilateral relations.
On Friday, Vila Casa met with Zarif, Foreign Minister on his office in foreign ministry earlier today and will meet Ali Akbar Velayati, Leader's adviser in international affairs later.
"Both countries enjoy 50th anniversary of official diplomatic relations established in the past which we commemorate now; we had good discussions which will be continued after lunch," Mr. Ravanchi said after meeting with his Mexican counterpart. "We believe that there is ample opportunity to boost ties with Latin America," he added.
"Latin American countries are members of Non-Aligned Movement, and despite geographical distance, we have much in common in terms of culture and history," he said.
Mr. Vila Casa expressed gratitude to Iran on the anniversary and invitation for a visit to Iran by Mr. Ravanchi. "Our friendly talks sought to deepen bilateral cooperation based on mutual respect and the principle of peaceful coexistence," said Mexican deputy-FM, and that "Iran and Mexico are heirs to ancient cultures which served the international community, and enjoyed unique cultural identity."