Europe
Iran
Middle East
World News
Deputy FM: Macron's Initiative Illustration of Trump's Failure in Anti-Iran Campaign
Iranian Deputy Foreign Minister for Political Affairs Seyed Abbas Araqchi said that efforts made by French President Emmanuel Macron to save the nuclear deal, officially known as the Joint Comprehensive Plan of Action, substantiate the failure of the maximum pressure campaign launched by US President Donald Trump against Tehran.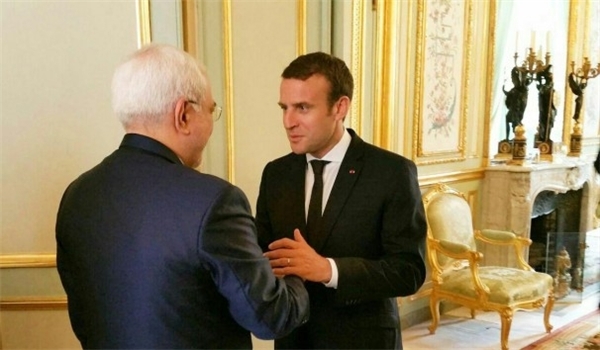 "When Europeans, including France, persuade Trump with their initiative, it means that 'maximum pressure' has failed to achieve its aims and there is a division. They should fulfill Iran's demands because we have said that Iran's demands in the JCPOA, specifically regarding oil sales and banking ties, should be met for us to return to full implementation of the deal," Araqchi told a state Radio program on Thursday night.
"What we have proposed to Europeans is to either buy our oil for their companies through obtaining US' permission or if they cannot do this, provide the Islamic Republic with credit lines in proportion to the same amount of our oil sales. Our return to full JCPOA implementation is impossible without these measures," he added in the interview.
Pointing to France's initiative to salvage the deal in G7 summit in Biarritz, he highlighted, "The American side has shown some flexibility in issuing waivers for Iran's oil sales."
"This is the very split that has opened up in America's maximum pressure policy and the very achievement that Iran is obtaining in its maximum resistance policy," he highlighted
"There will be strenuous and complicated negotiations ahead of us for arriving at a specific formula," to salvage the JCPOA, the deputy foreign minister added.
The senior diplomat said after US changed its policy about commitments to the JCPOA last year and reached the policy of maximum pressure, Tehran also adopted relative policy to thwart the US attempt to zero Iran oil sale and the US "maximum pressure".
Totally, Iran's foreign policy has been active over the last year since Tehran has taken resistance policy against maximum pressure, Iranian diplomat noted.
Elaborating on Iran's resistance, Araqchi said that Iran needs to work hard to deprive the US of creating international consensus against Iran like what they have done in nuclear program and was defeated by the JCPOA in 2015.
Despite the fact that the JCPOA excluded Iran's case from the United Nations Security Council, Americans have attempted for several times to take Iran's case to the UNSC again, he added.
Araqchi made it clear that the US has tried time and again to take Iran's case to UNSC on the pretext of missile program, Yemen and internal affairs.
Elsewhere in his remarks, the Iranian diplomat cited the Warsaw meeting as an example of Washington's attempts to create global consensus outside the United Nations.
He said that Iran tried not to let US define Iran as a security case in the world adding that in fact the US itself has become isolated in its policies against Iran and the JCPOA.
Meanwhile, US re-imposed sanctions against Iran and forced all countries, banks and companies to implement sanctions seriously.
Based on its rights in the context of the JCPOA, Iran on May 8 reduced parts of its JCPOA commitments; he said adding that Iran's demands should be met, so that Tehran would not take the third step of reducing commitments to the JCPOA.
Commenting on recent talks in Europe, Araqchi said Iran's requests are clear if Europe and other parties want Iran to return to full implementation of the JCPOA they should fulfill Iran's demand with regard to selling oil and restoring banking ties.
On Monday, an informed source revealed that Iran has rejected President Macron's proposal to include the Islamic Republic's missile program into new negotiations.
Iran has already responded to Macron's proposal, an informed source, speaking on condition of anonymity told presstv, stressing that the country's missile program is not up for discussions.
According to the source, Iran has also rejected France's proposals for talks on regional issues and Iran's regional presence.
Reacting to the French president's idea of establishing a $15 billion credit line for Iran in a trade mechanism to help Tehran conduct business, the source told Press TV that Iran had responded by saying that it would consider reversing its decision to scale back some of its commitments under the 2015 nuclear deal if the line is established.
Regarding an offer of talks between Iranian President Hassan Rouhani and his US counterpart Donald Trump, the source said that Iran has already announced that any negotiation with the US hinges on Washington's return to the nuclear deal, officially known as the Joint Comprehensive Plan of Action, and lifting of sanctions against Tehran.
Iran will not take part in any negotiations as long as the sanctions are in place, as the Islamic Republic's national interests will not be guaranteed unless the bans are removed, the source said, reaffirming President Rouhani's earlier remarks on national interests.
Under the JCPOA, Iran undertook to put limits on its nuclear program in exchange for the removal of nuclear-related sanctions.