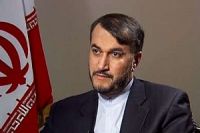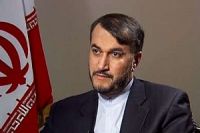 Iran's Deputy Foreign Minister Hossein Amir Abdollahian underlined that the US is pursuing the same policies it Iraq as it did in Syria.
According to IRNA, Amir Abdollahianˈs remarks came in reaction to the recent statements of the US Secretary of States Hillary Clinton about conditions in Iraq.
The Iranian deputy foreign minister said, "The US wants to go the same way in Iraq as it did in Syria without relinquishing its double-standard policies."
Amir Abdollahian added, "The Iraqi armed forces and popular mobilization of Shiite, Kurd and Sunnis will undoubtedly put an end to terrorism in Iraq."
The Iranian deputy foreign minister reiterated that no sane man can become companion of the Islamic State of Iraq and the Levant (ISIL) in Iraq and the region.
Amir Abdollahian said, "The (Iraqi) Kurds have been besieged by the ISIL and they cannot ignore considering the terrorist group a serious threat."
He also noted that those who cooperate with Takfiri terrorists do not have a correct understanding of the notion of security.