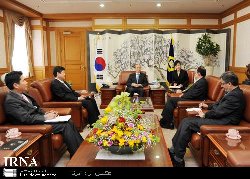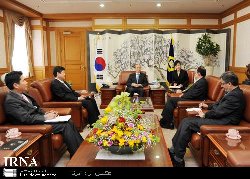 Iran's Ambassador to Seoul Ahmad Masoomifar said here on Wednesday that expansion of judicial cooperation between Iran and South Korea can serve as a good backing for expansion of mutual ties in other, especially commercial and economic, fields.
In a meeting with South Korea's Chief Justice Lee Yong-hoon, Masoomifar
hopped that mutual ties will be promoted to such a level to match expectations of the two sides.
He pointed to need for expansion of mutual judicial cooperation, saying visit of Iran judiciary chief to South Korea in 2008 to that end should be regarded as a turning point in mutual ties in the sector.
Lee Yong-Hoon hoped to visit Iran soon to look into ways of promoting mutual judicial cooperation.
Lee Yong-hun, the 14th chief justice of the South Korean Supreme Court, has been invited by Judiciary Chief Ayatollah Sadeq Amoli Larijani to pay an official visit to Iran.