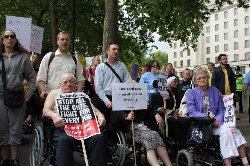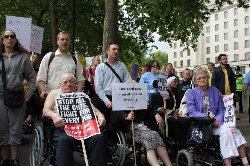 Thousands of disabled people, their families and supporters took to the streets of London Wednesday in a national protest against the government's cuts in benefits to the 'Hardest Hit' section of society.
Joining the protest The Public and Commercial Services (PCS) union said that the march was sending a "powerful message" to the government that "people are prepared to stand up in defence of benefits and services for the most vulnerable."
"This financial mess was created by bankers and to make the vulnerable pay for a crisis they did not cause the government is cutting lifelines like the Equality and Human Rights Commission's helpline and slashing the independent living allowance, disability living allowance and employment support allowance," a PCS spokesman said.
The protest brought together hundreds of disabled people's organisations, waving banners in Braille and chanting in sign language, with also many in wheelchairs, in a unified march that culminated in a mass lobby of MPs in parliament.
Recent research by the Demos think tank found that 1.48 million disabled people in Britain are set to be worse off by a total of £374 million for this year alone, while organisers have estimated that families could lose £9bn of support over the next four years.
Jaspal Dhani chief executive of the UK Disabled People's Council, coordinating the march, said people were taking to the streets out of anger and felt marginalised.
'Disabled people are the hardest hit and they are coming together to say loud and clear 'stop the cuts and protect our rights',' Dhani said.
'We've expressed our concerns about the impact the spending review is likely to have on the lives of disabled people, but we feel the government has not taken this on board,' he said.
The protest comes after a mass march in London in March, organised by trade unions, against the government's austerity programme, when up to half a million took to the streets in the biggest demonstration in the British capital since the height of opposition to the Iraq.
Students also held a series of rallies last November and December against education cuts and plans to treble university tuition fees to £9,000 a year from 2012.