Iraq
DISTURBING IMAGES: Us-israel, Qatar, Saudi, Turkey Hired ISIL Butchers cuts hand of Young Boy in Public in Iraq's Nineveh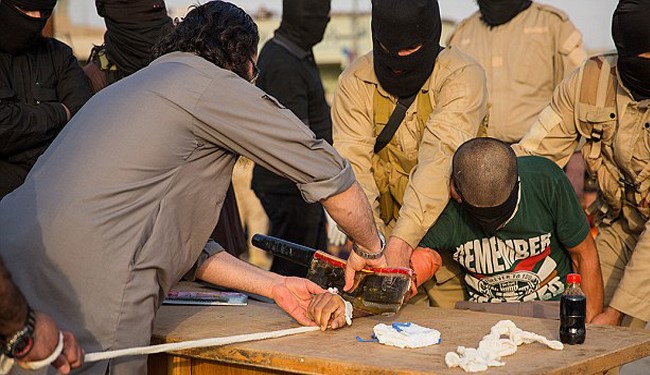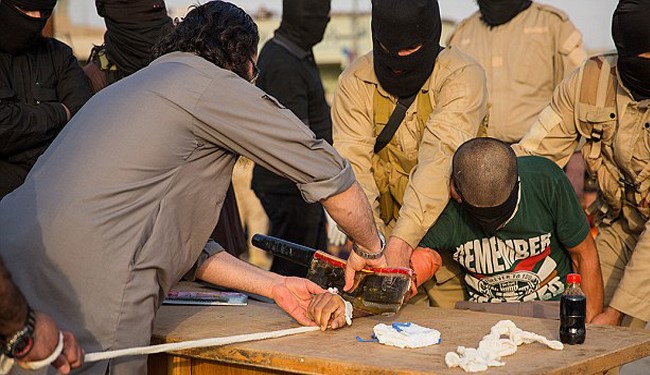 A terrified Iraqi accused of being a thief is sentenced to have his hand chopped off with meat cleaver after being 'convicted' by an ISIS court in the Iraqi province of Nineveh.
Blindfolded, pinned down and butchered with a meat cleaver, terrified boy has his hand hacked off by ISIS fanatics in latest display of barbaric action.
An ISIS soldier uses a bandage to wrap up his bleeding wound.
Before the sentencing, the images show baying crowds of onlookers, including some young children, surrounding the table while a fighter appears to read out the charges.
Fearsome: A squadron of armed ISIS militants control the crowds during the sickening amputation.
Earlier this year, ISIS released a document on social media, explaining the rules of ISIS penal code, which is being brutally enforced across ISIS-held territory in Syria and Iraq.