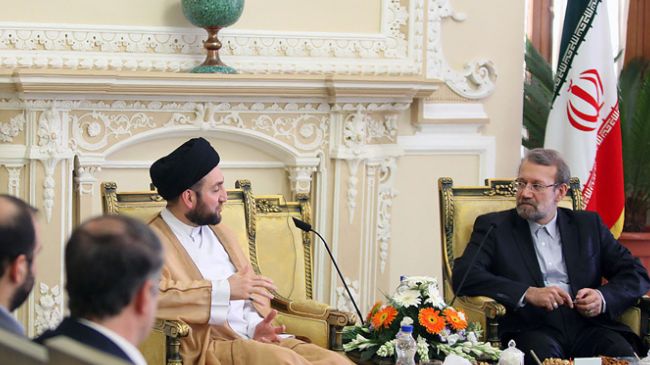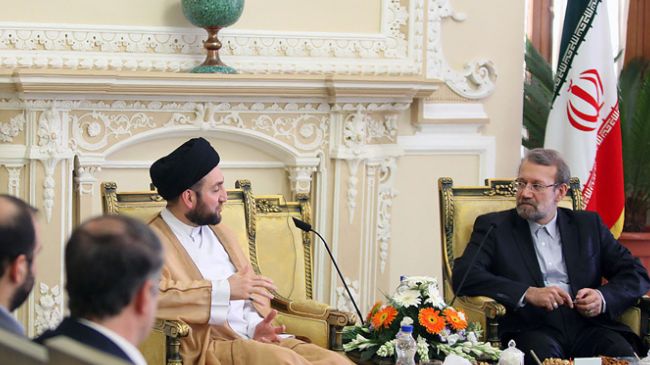 Iran's parliament speaker has said dividing terrorists to moderates and extremes is a strategic error of judgment by the west.
Ali Larijani, who is in a tour of the region, has met with the head of the Islamic Supreme Council of Iraq Ammar al-Hakim today. Larijani lavished praise on Hakim and his fellow Shia party, saying that the current situation of peace in Iraq was definitely indebted to efforts by al-Hakim and Supreme Council; "stability is key to development and influx of investments to the country, which fortunately Iraq enjoys a level of stability enough for this achievement," parliament speaker noted.
Larijani believed that war on terror was a great suffering to the nations of the region, criticizing the dominant mentality calling attentions to terrorism 'more than enough;' "the situation in Syria and Lebanon is better than it in the past; Syrian government has acted better and political negotiations are underway, with some proposals coming from other players," he asserted.
"I discussed political reforms with Mr. al-Ebadi the Prime Minister; on the other hand, the clerical order in Najaf sees the events and situation in positive light of benign thoughts and their concerns should be addressed duely," Larijani emphasized.
On the 'conspiracy' by some 'Arab and western countries' to hit the economy of oil-producing countries such as Iran, Russia and Iraq, Larijani said that Iran had taken measures to minimize the effect of lower oil prices to its economy, "since Iran now relies on oil income less than Iraq does," and believed that the Iraqi government should devise measures as well to handle the loss of oil income.
"It is quite likely that the trend in oil prices would not permanently continue; since rival countries would not welcome lower income from lower oil prices," Larijani hoped. He denounced US conduct in fighting terrorism especially in supporting moderate strains of terrorists as a deception.
Ammar al-Hakim, for his part, said that Iran and Iraq had strategic relations, and that these relations were not limited to Shia majority, but it is true about Sunnis and Kurds. Hakim appreciated Iran's help in fighting terrorism, downgrading US role in fighting ISIL.