Iran
DM Describes IRGC as Pioneering Force in War on Terrorism, Stresses Failure of Oil Sanctions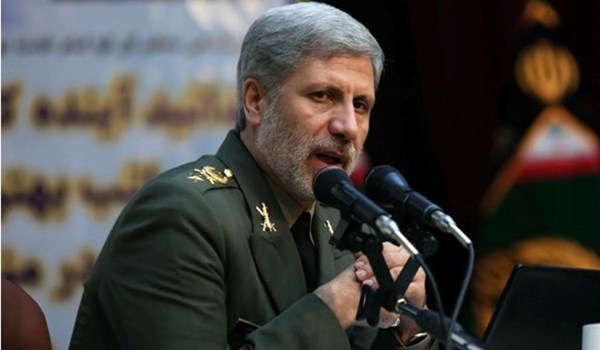 Iranian Defense Minister Brigadier General Amir Hatami blasted Washington for designating the Islamic Revolution Guards Corps (IRGC) as a terrorist organization, and underlined Iran's success in defeating the US in economic warfare.
"The IRGC as the most pioneering organization in war against terrorism in West Asia has always been a hero," General Hatami said in Tehran on Saturday.
He also termed the US oil and economic sanctions against Iran another conspiracy by Washington, stressing that enemies' plots against the nation are doomed to failure.
General Hatami referred to 40 years of embargos against Iran, and reminded that much of the defense industries' progress and achievements in various ground, marine, air and electronic areas were made under the sanctions.
Last month, the IRGC was formally blacklisted by the US as a "Foreign Terrorist Organization" following a relevant announcement by President Donald Trump on 8 April.
Responding to Washington's move, Iran immediately declared the US as "state sponsor of terrorism" and American forces in the region "terrorist groups".
Iran's top security body, the Supreme National Security Council (SNSC), in a statement declared the United States a "terrorist government", and blacklisted the "CENTCOM and all its affiliates a terrorist group".
The SNSC – that is headed by President Hassan Rouhani – condemned Washington's move, calling it "an illegal and dangerous action" that poses a "major threat to regional and international peace and security and grossly violates the rules of international law".
The statement further condemned the US decision as "unlawful and unreasonable action" prompted by the Islamic Republic's regional influence and success in fighting against terrorists, and blamed CENTCOM for harming Iran's national security as well as ruining the lives of "innocent Iranian and non-Iranian individuals" to promote the US "aggressive policies" in West Asia (the Middle-East).
"The Islamic Republic of Iran regards this baseless move as a major threat to regional and international peace and security and a blatant violation of the compelling rules of international law and the United Nations Charter," Iran's top security body reiterated.
Also, former IRGC Commander Major General Mohammad Ali Jafari blasted Washington for designating the IRGC as a "terrorist organization", stressing that his forces would further increase power in the year ahead.
General Jafari, who was succeeded by his deputy Major General Hossein Salami last week, described the US move as "ridiculous", saying that "the IRGC is in the hearts of the people".
"God willing, the IRGC will grow stronger in the coming year in defensive and offensive fields more than before," he said.
"Much to enemies' dismay, the IRGC and the Army will stand together and will continue to support the deprived and the oppressed people all over the world without fear," General Jafari said.