Iran
Middle East
DM: Iran among World Powers in Defense Field
Iranian Defense Minister Brigadier General Amir Hatami said that the progress and growth made after the Islamic Revolution in Iran has turned the country into a world power in the field of defense and development of home-made weapons.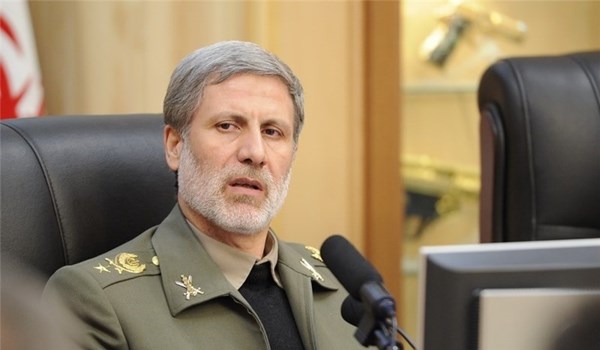 "The experience of 8 years of holy defense (Iraqi-imposed war against Iran in 1980s) and continued heavy defense sanctions against the country, led us to designing a model of progress that today, relying on the capacity of Iranian scientists and methods based on the needs of the Islamic Republic, Iran has turned into a world power in defense field," General Hatami said, addressing a ceremony in Tehran on Saturday afternoon.
"The biggest issue we face today in the defense industry is development and transformation, and in fact, defense innovations are the source of the country's might and increase in the combat power of the Armed Forces," he added.
In relevant remarks last month, General Hatami blasted the US for imposing sanctions on the country, but said that the embargoes have had no effect on the development of country's defense sector.
General Hatami stressed that countries do not agree with the biased request of the United States to extend arms embargo, and said that it has had no impact on the country's defense development.
In reaction to the US government's efforts to extend the arms embargo against the Islamic Republic of Iran, he said that the US officials are trying to extend the arms embargo, but they will not succeed.
Also, in May, General Hatami said promotion of the country's missile power is a top priority of his ministry.
"The missile industry has made great strides in the field of manufacturing surface-to-surface and armor-piercing projectiles that in turn served to further invigorate the country's ground battle prowess," Hatami said, stressing that the ministry has focused on further reinforcing of missile capability.
He pointed to the advancement of the country's prowess in the fields of air defense and aerial, naval, and ground battle as the ministry's other priorities.
Last August, Head of Iran Aviation Industries Organization (IAIO) Second Brigadier General Afshin Khajeh Fard underlined the country's desired position in the world in manufacturing different types of drones.
"The international bodies which assess the countries' air combat power have ranked Iran 5th world power in the field of drones or UAVs," General Khajeh Fard said.