Pakistan
Doctors strike in southwest Pakistan in row over coronavirus protection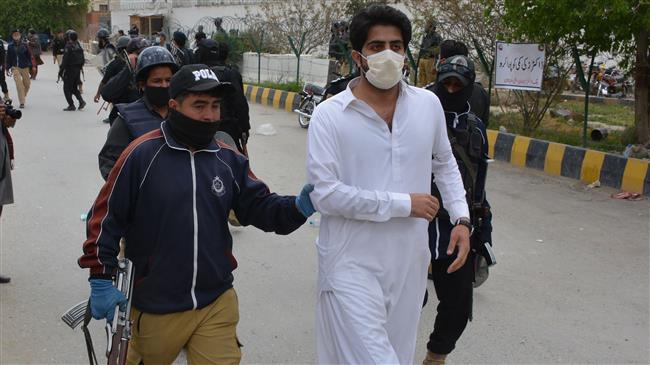 Pakistani doctors went on strike at two hospitals in southwestern Quetta on Tuesday, a day after police used force to break up and detain medics protesting against a lack of gear to protect them against the coronavirus.
Hundreds of doctors and paramedics protested on Monday against what they said was failure by the government to deliver promised supplies.
At least 30 doctors were detained by riot police for defying a ban on public gatherings during a lockdown introduced to fight the spread of the virus.
"We are on strike for the protection of our doctors and paramedics," one of the detained doctors, Hanif Luni, a leader of the association that arranged the protest, told Reuters on the phone from his police holding cell.
He said that doctors stayed on duty in the cardiac and gynaecology departments for emergencies, adding that the strike had spread to other parts of the province of Balochistan, of which Quetta is the capital.
Pakistan has reported close to 4,000 coronavirus cases, including 54 deaths, of which over 200 cases are in under-developed Balochistan.
An official with Balochistan's health department, Dr. Wasim Baig, said 14 doctors and 10 other medical workers had been infected by the virus in the province.
The provincial government says doctors working with coronavirus patients had been provided with protective gear and that the protesting doctors were not dealing with infected patients.
The spokesman for Pakistan's disaster management authority, which is steering the country-wide effort to combat the virus, said Balochistan was given more safety kits than it needed for its frontline medical staff, including masks, coveralls, gloves and goggles.
"Our first priority is to cater to frontline doctors and staff," spokesman Saqib Mumtaz told Reuters, adding that those not on coronavirus duty had also been given what they needed and would get more. "We're not short of gear," he said.
Hundreds of lockdown-hit animals die at Pakistan pet markets
Abandoned when Pakistan's largest cities went into lockdown, hundreds of caged cats, dogs and rabbits have been found dead inside pet markets hurriedly shuttered as the coronavirus spread.
Survivors from the specialist corner of Karachi's sprawling Empress Market were only rescued after activists appealed to the authorities for access.
Two weeks into the shutdown, Ayesha Chundrigar could hear the cries of the pets from outside the shops, which together housed up to 1,000 animals.
"When we got inside, the majority of them were dead, about 70 percent. Their bodies were lying on the ground," Chundrigar, who runs ACF Animal Rescue, told AFP.
"It was so horrific, I can't tell you."
Starving and locked in cages with no light or ventilation, the survivors sat amongst the dead, trembling.
As the virus pandemic grew, Pakistan's major cities were plunged into lockdown, forcing many shops to close. Only stalls selling essential goods such as food and medicine were allowed to continue operating.
It left pet shop owners blocked from their businesses, some resorting to sneaking in at night to feed the animals.
After the desperate rescue, Chundrigar has now convinced the Karachi authorities to allow pet shop owners and her team daily access to the animals.