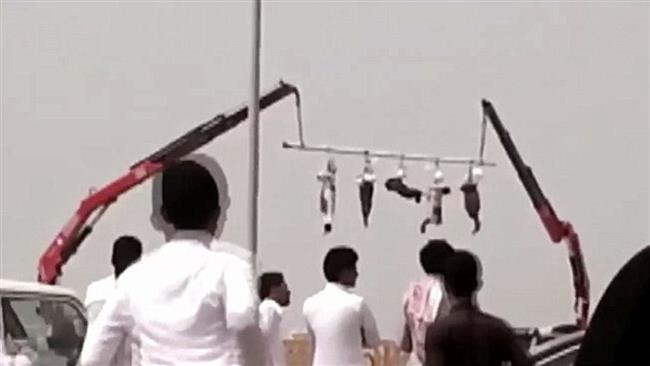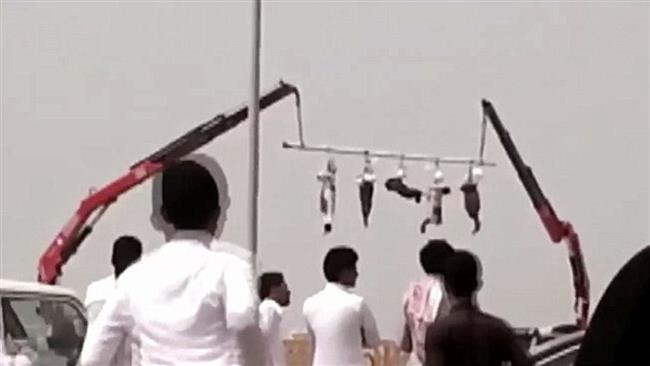 Public beheadings at the "frightening" rate of almost a day this year, muffling dissent, widespread human rights abuses, and war crimes in Yemen have made Saudi Arabia synonymous with one of the most repressive regimes in the world, according to rights groups. But despite the kingdom's relentless brutal campaign and strict media control, activists have tried to expose the extent of the regime's barbarity and dismal human rights record through various means, including social media and a recent documentary.
"Saudi Arabia Uncovered" is the result of six months of undercover shooting that lays bare the country's treatment of the people on its soil. The shocking documentary features disturbing footage of public lashings and decapitations, and depicts the lives of those who dared to protest against the Saudi monarchy's crackdown on peaceful protesters.
The documentary, co-produced by Britain's ITV network and the American Public Broadcasting Service, is scheduled to be aired on Tuesday.
The shocking exposé features footage of peaceful anti-regime protesters in the Qatif region of oil-rich Eastern Province, where Ali Mohammed Baqir al-Nimr was sentenced to death by beheading after being arrested at the age of 17 for taking part in demonstrations. Amnesty International has called for the release of Nimr, who could be sent to gallows imminently according to Saudi media reports last week.
Ali is the nephew of the late prominent Shia cleric, Ayatollah Sheikh Nimr Baqir al-Nimr, who was executed along with 46 others in early January in the kingdom's largest execution in three decades. The killing of Sheikh Nimr caused global outrage against Saudi Arabia's crackdown on minorities, especially the Shia Muslims that account for more than 20 percent of the Saudi population.
The documentary also exposes how Saudi Arabia, the breeding ground of Wahhabi ideology, tries to indoctrinate schoolchildren with the extremist beliefs and hatred toward other religions and minorities.
"The Christians should be punished with death until there are none left. They should be beheaded," a 14-year-old Saudi student says in response to a cameraman in the video, adding, "We learn that Shias… should be punished by death."
Saudi Arabia has reportedly spent $100 billion to nurture Wahhabism throughout the world, which is directly responsible for the rise of such terror networks as the Daesh Takfiri group, which is wreaking havoc in several countries, mainly Iraq and Syria. Takfirism, or the practice of accusing others of being "infidels," is a characteristic of Wahhabism, the radical ideology dominating Saudi Arabia and freely espoused by the country's clerics. Saudi Arabia also provides widely-reported support for Daesh.
The documentary also shows scenes of public beheadings, lashings, and amputations of body parts at a Riyadh public place nicknamed Chop Chop Square, where police can be seen whipping women and executioners brandishing their swords. In a very heart-wrenching scene, one of the women, who are treated as second-class citizens in the Arab country, can be heard screaming, "I did not do it," before being decapitated by a swordsman.
In another gruesome execution, the bodies of five people accused of robbery can be seen hanging from a pole hoisted between two cranes in public display for days.
Amnesty International UK's Head of Policy and Government Affairs Allan Hogarth told The Independent earlier this month that "with death sentences imposed after deeply unfair – and sometimes secret – proceedings, with defendants often denied a lawyer, and with courts regularly convicting people on the basis of 'confessions' extracted under torture, Saudi Arabia is making a mockery of justice and dozens of people are paying with their lives."
Under the Saudi law, apostasy, armed robbery, drug trafficking, rape, and murder carry the death penalty. Beheading with a sword is the most common form of execution in Saudi Arabia.
According to Britain's Daily Mail, Saudi authorities have threatened to kill Loujain al-Hathloul, a Saudi activist who has taken part in the film. The women's rights campaigner had previously been imprisoned after posting a video of her while driving, which is banned in the country. Women in Saudi Arabia face many restrictions and must get permission from male family members to travel, work, marry or even open a bank account.
Saudi Arabia is the only country in the world where women are not allowed to drive, a ban that stems from a religious fatwa imposed by the country's Wahhabi clerics. If women get behind the wheel in the kingdom, they may be arrested, sent to court and even flogged.
Manal al-Sharif, one of the first Saudi activists who face imprisonment for defying the driving ban, said in a Ted Talk that Wahhabi clerics are quick to make slanderous remarks against women drivers. His brother was also forced to quit his job as a geologist and leave the kingdom just for lending his car to Manal.