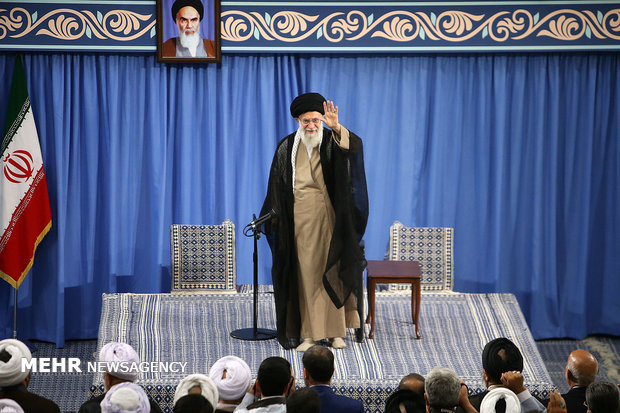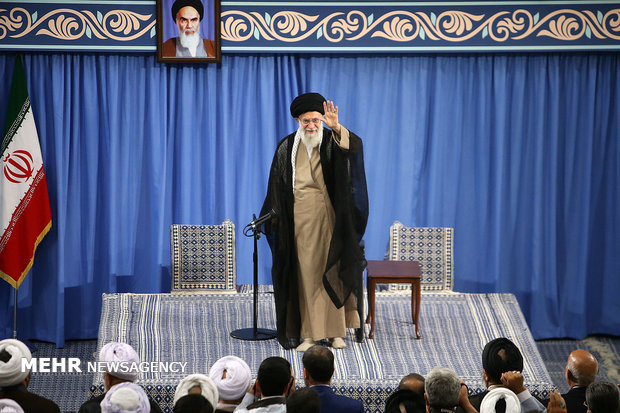 Leader of the Islamic Ummah and Oppressed Imam Ayatollah Seyed Ali Khamenei on Sunday attributed the source of the current economic problems to domestic mismanagement rather than external factors.
Leader of the Islamic Revolution Ayatollah Seyed Ali Khamenei on Sunday met with thousands of people at Imam Khomeini's Hosseinieh on Sunday.
At this meeting, Leader of the Revolution addressed recent economic problems of the country, calling 'domestic factors' the source of the crisis and added "experts and many officials believe that the problem is domestic. The problem of gold coin and foreign currency unfolded due to negligence and mismanagement. People from all walks of life feel the livelihood problems today. A group of the nation is truly under extreme pressure. The inflammation in food and housing, and other problems puts pressure on the people.
Ayatollah Khamenei described the dramatic fall of rial against foreign currencies as targeting mainly the working class and said, reduction of the value of national currency is a problem of the present economic situation. When the value of Iranian rial falls in such a manner, it is the daily paid laborer who is left with nothing.
Leader attributed the source of the current economic problems as internal mismanagements rather than external factors, highlighting that "economic experts and many officials agree that today's livelihood problems do not emerge from outside; rather, they are tracked down to internal issues."
Ayatollah Khamenei stressed that sanctions may play a role in creating the current economic situation, however, the domestic factors are more involved in the matter; "not that sanctions are not playing a role, but the main reasons lie in the measures taken within the country. If actions are taken more efficiently, more prudently, more swiftly and more firmly, sanctions cannot have much effect and they can be resisted."