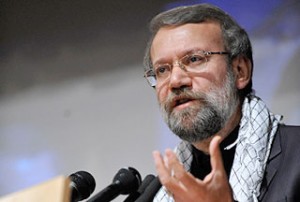 Iran's top lawmaker says Tehran is still seeking a diplomatic solution to the dispute over its nuclear energy program, criticizing the UN nuclear body over its latest resolution against the country.
"I believe there is still room for diplomacy and it is useful for them [World powers] to adopt a diplomatic option," Parliament Speaker Ali Larijani told reporters in a Monday press conference.
"That way Iran would be able to make progress within the framework of International Atomic Energy Agency (IAEA) while they would also be certain that Iran activities are peaceful."
"But of course, if they choose to take a different path Iran would also adopt a different stance," he added.
On Friday, the IAEA passed a resolution that calls on Iran to halt the construction of its Fordo enrichment plant, located to the southwest of Tehran.
This is while Western powers have been pressuring Iran to accept a proposal which would see Iran ship its Low Enriched Uranium (LEU) abroad for further processing and have it returned for use in the Tehran research reactor, which produces medicine.
Tehran accepted the basic principals of the proposal, but asked for some alterations in the draft that would allow the exchange to take place inside Iran.
If the involved powers had accepted Iran's proposal it would have given the Islamic Republic the assurance it needed that the other side would not go back on its deal after the low-grade fuel is transferred out of the country.
The resolution issued by the IAEA Board of Governors was not quite what Tehran expected as it followed a recent Agency report that had for twenty-first time confirmed the non-diversion of Iran's nuclear program.
The US-backed resolution, which was passed without consensus, drew some harsh reaction from Tehran.
In his Monday comments, Larijani slammed the US and its allies for the lack of genuine change in their 'carrot and tick' policy toward Iran and described the so called 'overtures' they claimed to be making as "tactical actions made for their own benefit."
Calling them "useless", Larijani dismissed Western threats of military action or economic sanctions against Tehran and said that Iran would not waver when it came to its nuclear rights.