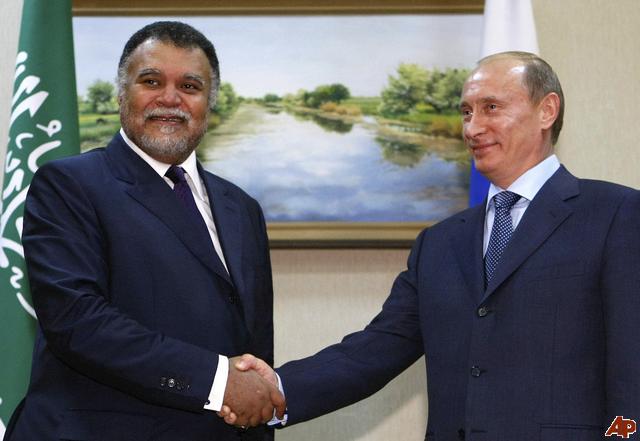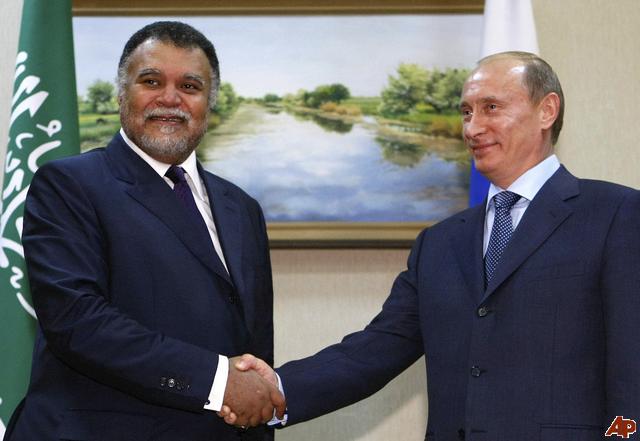 Russian President Vladimir Putin discussed Syria and Iran with Saudi Arabian intelligence chief Bandar bin Sultan in Moscow, thBandar, Putine Kremlin said on Tuesday.
The "positive dynamics of the Iran nuclear program settlement were singled out" in the talks, Putin's spokesman, Dmitry Peskov, said by phone today. They also discussed Syria in the context of preparations for the so-called Geneva II talks, he said.
This is the second Putin-Bandar meeting since August, when they reviewed possible cooperation between Russia and Saudi Arabia on Syria and on security issues, according to As-Safir newspaper, which cited transcripts of the meeting.
The Saudis are seeking a way to diversify their foreign relations by restoring contacts with Russia, which is now "the most active player" on the Syria matter, Fyodor Lukyanov, head of the Moscow-based Council on Foreign and Defense Policy, told Bloomberg website.
"Saudi Arabia is furious with the U.S. for threatening to attack Syria and then not carrying that out, as well as for its rapprochement with Iran," Lukyanov said by phone. "Saudi Arabia can help Russia with a resolution in Syria because if anyone can influence the Syrian opposition, it's the Saudis, not the Americans."