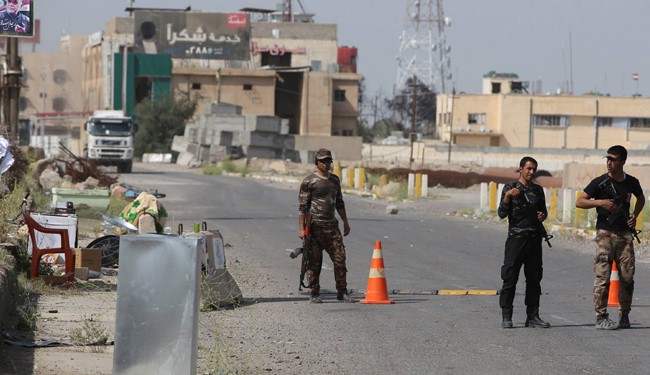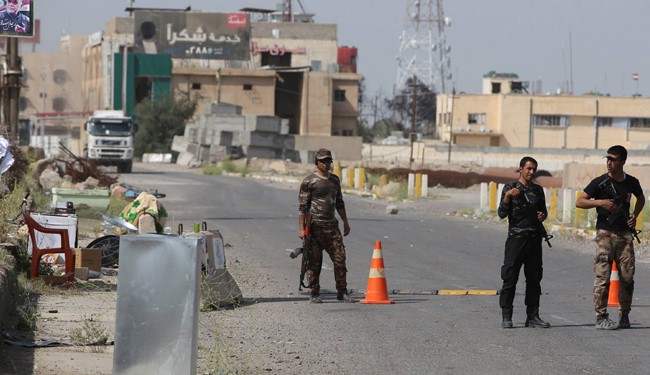 Iraqi security forces have killed 37 Daesh militants Saturday in clashes that took place in the city of al-Karma in the western province of Anbar, an army source said.
Major General Mohamed al-Delimi told The Anadolu Agency that the Iraqi forces were advancing toward central al-Karma to capture it from Daesh.
4 suicide bombers of ISIS also killed in this attack.Security forces also managed to defuse 175 improvised explosive devices between the al-Hareriyat area and central al-Karma, al-Delimi said.
Also Iraqi Kurdish Peshmerga forces killed 21 terrorists of the ISIS group in Nineveh province.
Kurdistan Democratic Party (KDP) Spokesman Saeed Mamouzini said the Peshmerga forces thwarted an ISIL attack on the town of Sinjar on Friday, killing 21 terrorists.
On the other hand the Syrian army targeted concentration centers and hideouts of the ISIS terrorists in the countryside of Deir Ezzur on Saturday, leaving a large group of them dead and injured.
The army targeted concentration centers and hideouts of the ISIL terrorists in the village of Hatla to the East of Deir Ezzur city, killing and injuring scores of them.
A number of the terrorists' vehicles were also destroyed, an informed source said.
Senior Iraqi officials have blamed some Persian Gulf Arab states for the growing terrorism in their country.
Today a suicide car bomber attacked Iraqi forces west of the capital, Baghdad, killing at least six troops, officials said, as the Canadian prime minister paid a surprise visit to Iraq.
The attacker drove an explosive-rigged Humvee into a military headquarters in the town of Garma, where government forces and allied militias have been battling Daesh terrorists, a police officer said.
The dead included three soldiers and three militia members, he added. Nine other troops were wounded.
Also In the eastern province of Diyala, a minibus was traveling on a road frequently used by military convoys when a bomb detonated killing five women, two children and wounding four others, police said, AP reports.
In Syrian, terrorists shelled government-held districts in the northern city of Aleppo on Saturday, killing at least 12 civilians, including three children, state media reported.
Syrian state TV said the shelling, which killed eight members of the same family, also left 45 people injured.
The state news agency, quoting an unnamed police official said three children were among those killed.
The official said the shells hit a residential area, damaging homes, shops and cars.