Palestine
Dozens injured as terrorist israeli blood suckers storm al-Aqsa Mosque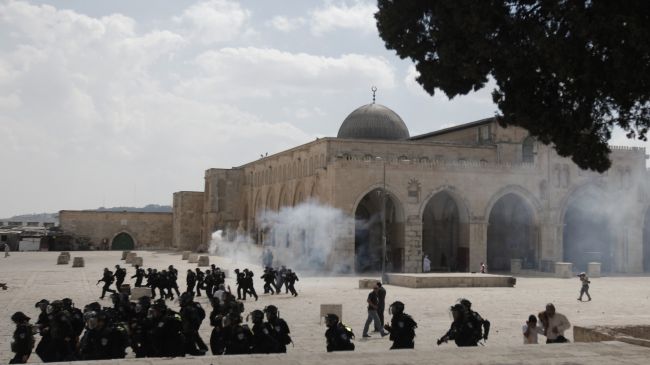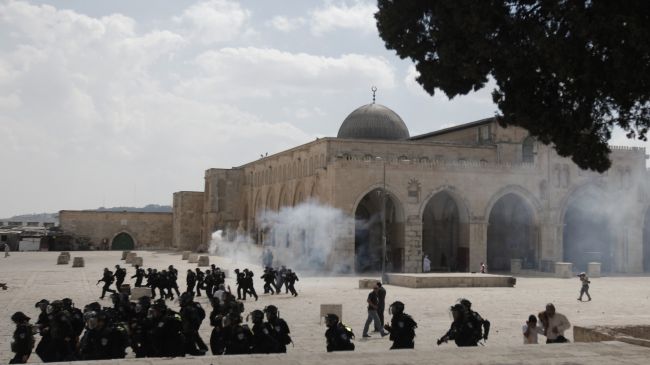 Dozens of people have been injured as Israeli forces attacked Palestinian protesters at the al-Aqsa Mosque in East al-Quds (Jerusalem).
This comes as violent clashes erupted in the al-Aqsa Mosque compound after armed Israeli forces stormed the holy site to disperse Palestinians protesting the war on Gaza.
"Around 100 Israeli police officers stormed the al-Aqsa's courtyards and assaulted worshippers," media outlets quoted witnesses as saying, who also added that Israeli forces fired stun grenades and rubber bullets at Palestinian protesters.
Sources say more than 40 protesters were injured during the unrest.
Thousands of Palestinian worshippers were forced to perform Friday prayers outside the mosque compound because Israel has restricted access to al-Aqsa.
The al-Aqsa Mosque has been the scene of clashes in recent months following frequent visits by Israeli settlers and officials to the holy site.
Israel is facing mounting pressure to rein in a spiraling wave of hate crimes by Israelis, mainly in the form of vandalism and graffiti targeting mosques and churches.
This comes as Israeli authorities are systematically acting to change East al-Quds' identity and character.
A report published by the al-Aqsa Foundation in October, said the Israeli regime is planning to build a synagogue in the al-Aqsa Mosque compound as part of its efforts to further Judaize the occupied Palestinian territories.
Over the past decades, Israel has tried to change the demographic makeup of al-Quds by constructing illegal settlements, destroying historical sites, and expelling the local Palestinian population.
Over half a million Israelis live in over 120 settlements built since the 1967 Israeli occupation of the West Bank and East al-Quds. The international community considers the settlements as illegal.