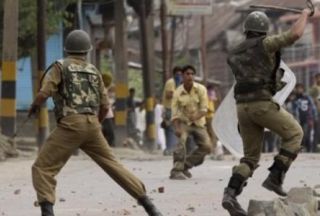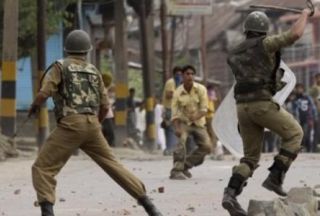 Protesters spilled into the streets of Indian-administered Kashmir on Friday in defiance of a curfew and strict security restrictions for the fifth consecutive day.
Police fired tear gas and blank shots to disperse the huge crowds in Srinagar and central and northern Kashmir.
Two protesters were critically injured and dozens more, including two women, were also hurt.
Dozens were arrested as hundreds of protesters marched toward Srinagar's Eidgah area after Friday prayers, the Hindustan Times reported.
Central Kashmir's Budgam and Bagh-e-Mehtab areas also witnessed massive protests, the newspaper said.
New Delhi has been trying to end weeks of protests over the killing of eleven civilians by police last month.
Shops and businesses are shut and there is a severe shortage of essentials goods.
But despite the risks, it seems the Kashmiris are determined to continue their "people power" movement.
Political analysts say the frequent street protests of the past two years are giving new life to the Kashmir liberation struggle.
Over the past two decades, the conflict in Kashmir has left over 47,000 people dead by the official count, although other sources say the death toll could be as high as 90,000.